Description
【MODERN & STYLISH DESIGN】– The Jialexin Ceramic Fan Heater features an ultra-modern design that stands out in any room it's placed in. The lightweight and compact nature of the heater allows it to be transported to wherever you needed it most, making it perfect use in homes, garages, caravans and offices.
【3S FAST HEATING】Turn on the small ceramic space heater, only 3 seconds the wind will be heating. The ceramic heating element with core technology allows our heater delivers instant hot airflow more evenly and widely which can heat up to20sq.m. Especially when choosing the high heat mode (1000w), you will feel warm instantly and long-lasting from the abundant heat.
【EASY TO USE WITH 3 MODES WIND】2 heating levels & fan only/cooling mode,5W for natural wind, 700W for low heat and 1000W for high heat. It has manual controls with Adjustable Thermostat for personalised comfort, which ensures you will have no problems getting your home, garage or office to the temperature you desire.
【OVERHEAT& TIP-OVER PROTECTION】For double safety assurance, our space heater is equipped with tip-over and overheating protection systems.The heater is made of flame retardant material to achieve zero fire hazard. TIP-OVER SWITCH will shut off when tipped forward or backward,more protection, more safety,perfect for houses have kids and pets.
If you are looking for a gift for your parents, kids, lover, or friends, our compact space heater is a perfect choice. Bring him/her warm in cold weather just like your accompany!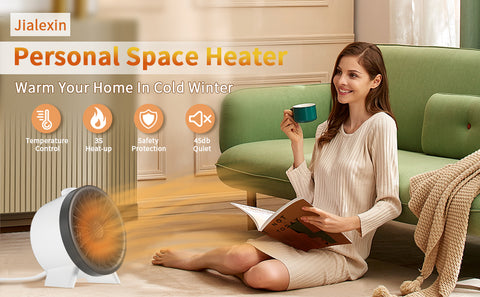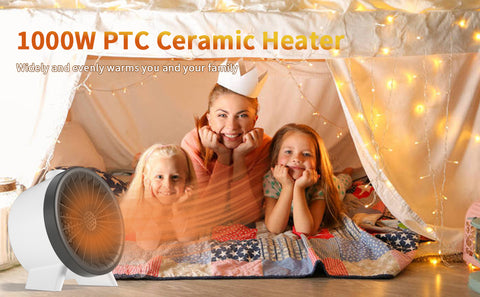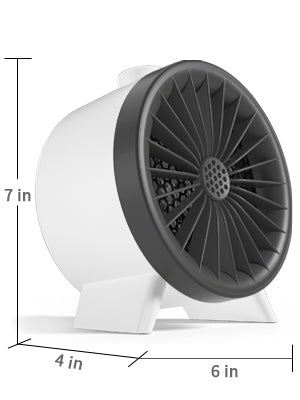 Jialexin ceramic heater for small space, warm you up in winter.
Warm Enough, More Secure
An Efficient Small Heater for Bedroom That Won't Take Too Much Space - Compact Design to Warm Your Small Room
Jialexin 1000W PTC small electric space heaters for indoor use can heat up in a faster speed than the other heater.
Deliver heat all around the environment, creating a comfortable and warm zone around you.
The mini body of our small portable space heater makes it become a perfect room heater for bedroom, desk heater for office, and floor heater for indoor use.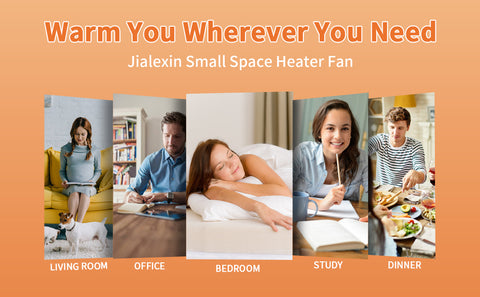 1. WARNING: Ceramic Fan Heater is not for use in bathrooms, laundry areas, or other high-humidity rooms.
2. This ceramic heater needs to be placed on a flat desktop.
3. It is strictly forbidden to use it with flammable and explosive materials, dust and oil in the environment.
4. This ceramic heater must not be covered. It is forbidden to bake objects on the oven to avoid a fire.
5. Before cleaning and maintenance, pull the power plug first. Wait for your body to cool down before continuing.
6. If you are not going to use the electric space heater for a long period of time after using it, first turn off the power switch and then pull out the power plug.
7. If the power cord is damaged and there is no danger, it must be replaced by the manufacturer, its maintenance department or a specialist in the similar department.
8. To avoid overheating of the power cord, do not bend, pull, or entangle the power cord.