Description
Linux Support: The electronic writing tablet is compatible with Linux, Android, Mac OS and Windows System. And it supports drawing softwares such as Corel painter, Adobe illustrator, Comic studio, Manga Studio, Clip Studio, Adobe photoshop, Gimp, Autodesk Sketch Book, Krita, Maya, Zbrush and so on.

[Battery-free Pen]: The 8192 levels digital pen is accurate and responsive, provides you natural experience as writing on real paper. The 2 programmable shortcuts allow you to quickly modify your work, while avoiding getting your hands and clothes dirty, when creating. And there is no need to change dry cell neither need to charge, ideal for projects that take a long time to complete without worrying that the pen is about to run out of power. 8 replaceble nibs included.

[4 Touch Keys and 1 Touch Panel]: With the unique design of full touch control, you can customise the 4 touch shortcuts according to your usual software or painting habits, or you can control the canvas and brushes via the trackpad, just as you would on your mobile phone, improve work efficiency and create your work more freely.

[Ultra Large Drawing Area ]: The active area of graphics tablet VEIKK A30 is 10 x 6 inches that offers you enough space to draw what you want. The working area can be set via the driver and can be reduced as required, for example when playing games like OSU.

[Type C interface port]: Just plug in you can create your art work, no need to care the plug in direction. Durable interface, no loosening of the interface or poor contact for years of use. The length of the cable is 1.5 metres, enough for you to use.

Pen tablet A30 is good for digital drawing.Kindly download the updated driver on our official website .

The passive pen is battery-free,no need to charge and you can use it for a long time without power outage issue.

If you have any more question, please visit our website for live chat support.

Battery-free pen 8192 Levels
Battery-free passive pen,no need to charge, The stylus can last for a long time.

It provides at most 8192 level pressure sensitivity, responsive, accurate and quick response. The pressure sensitivity can be adjusted according to users' preference.

Those two buttons on the pen can be switched between pen and eraser/ mouse function.

Report rate: 250pps
Four touch keys & One tracking pad
Four touch keys make it more convenient during drawing. Functions can be customized according to users' preference.

The tracking pad is for zoom in & zoom out both the canvas and brush.

Slide right: brush zoom in; Slide left: brush zoom out; Slide up:canvas zoom in; Slide down: canvas zoom out.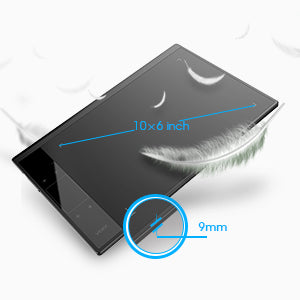 10 x 6 inch Drawing Area
10×6 inch active drawing area. Which offers you a more sensitive platform and space where you can create drawings or designs freely.

Ultra-thin and light: The thickness is only 9mm and the lightweight is only 570g.

You may feel like drawing on the paper even as a beginner.
Type C USB interface port
The TYPE C USB port allows plug in and out in any direction which is more convenient and solid.

Data processing is more accurate and relatively stable.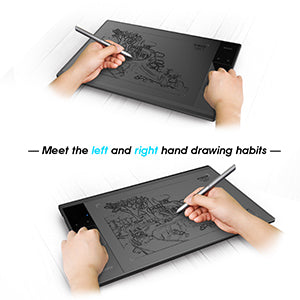 For both left-handed and right-handed artists
The A30 is designed for both left handed and right handed.

You can set it up easily according to our user manual.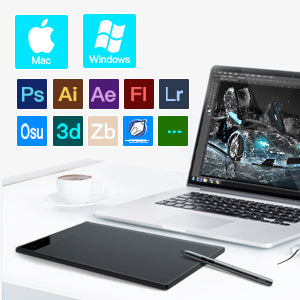 Compatibility
The driver is compatible with both Mac and Windows.

It is compatible with most drawing programs such as Photoshop CC/CS6, Autodesk Sketch Book, Illustrator, Clip Studio, and more.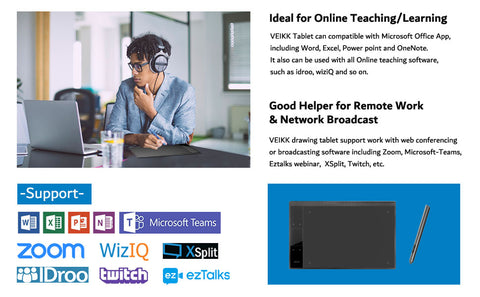 VEIKK A30 graphics tablet supports Online Teaching/Learning/Remote Work , no need to install VEIKK driver