Description
BRING WRINKLE-FREE ELEGANCE TO YOU --- Homeasy handheld clothes steamer effectively removes wrinkles with continuous steam output. The 5-hole nozzle and 120℃ high-temperature steam penetrates into more fabric area thoroughly and the 18G/MIN steam flow comes out powerfully and evenly to remove the toughest wrinkles.

COMPACT & ULTRA-PORTABLE --- The detachable design makes carrying and storing more convenient. When disassembling the water tank, this travel steamer is like palm-size. Its compact size and 0.8kg light weight makes it a perfect travel companion for carrying on luggage.

FAST HEAT & POWERFUL ENERGY --- Thanks to its ergonomic nozzle and Lightning fast heating technology, This handheld garment steamer ensures quick steaming performances in less than 45 seconds. Less waiting, more time enjoying life. 110ml water tank with 800W provides up to 8 minutes of steaming. Ironing your clothes at a time!

STEAM & DRY IRONING --- This steamer works great in both hang ironing and flat ironing. Hand ironing is a steam mode while flat ironing is dry ironing( After preheating, the steam panel can reach a high temperature of 140°and you can use it for dry ironing directly without pressing the steam button). No leaks or water spitting.

SAFETY & SATISFACTION --- approved by CB/CE, homeasy clothes steamer is safe to use. The steamer will automatic shut-off when the reservoir runs dry or the unit gets too hot. More durable and heat-shielding with high quality ABS material, never worry about hand scald and burnt fabrics.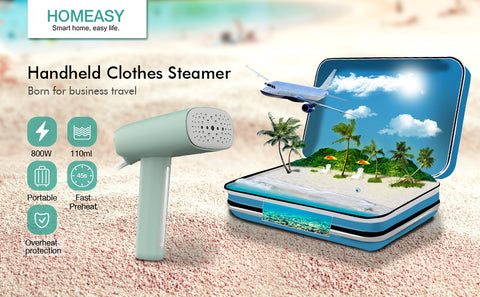 Homeasy Travel-ready Handheld Clothes Steamer
Wrinkles and creases can quickly destroy the appeal of an outfit. Whether you're trying to look primped and pressed for an important business meeting or you're wearing a new outfit for a night on the town, the last thing you want is for creases to get in the way. Homeasy garment steamer will have your outfit looking great again in no time and ensure you are dressed to impress for every occasion!
The homeasy is travel-ready. With a lightweight and portable design, it offers a convenient 110ml water tank. Featuring an excellent steam output, this nifty little fabric steamer is sure to get rid of wrinkles and creases in no time. Hence, you can look sharp for any occasion.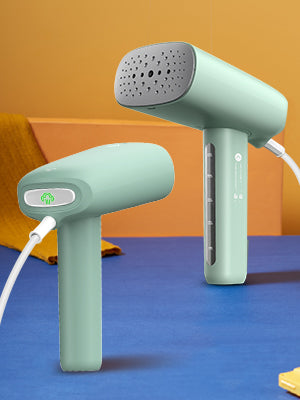 High-Performance Homeasy Clothes Steamer
Enjoy no-wrinkle elegance no matter where you are with homeasy steamer for clothes!
Our Steamer is compact enough to bring in your suitcase when traveling. It also includes a travel pouch for easy storage.
The 140 ° C steam penetrates deep into the fabric, refreshing your clothes and killing the bacteria. Heat treatment has proven effective in killing past viruses, particularly in areas where you may not be able to use detergent, such as for soft furnishings. Carpets, Sofa, curtains, towels can be disinfected with steam cleaning without irritating odor.
Power: 800 W

Water Tank Capacity: 110 ml

Preheating time: 45 seconds

Constant steam output up to 18g/min ( providing up to 8 minutes of continuous steaming)

Excellent Design: Water tank one-button pop-up design

Excellent Performance

The wide steam exit penetrates more of the fabric area faster. Therefore, you can see the creases and folds dropping out of your clothes in a matter of seconds.

110ml Water Tank

Ironing time for a summer shirt: 45s

Capacity of 110ml can be used for 4. They can also be used for the home like sheets and curtains.

Note: Thick winter clothing such as sweaters requires 2-3 times of ironing.

Save Your Time

The high-pressure and concentrated steam gets rid of wrinkles and folds within 3 minutes and the handheld steamer heats up within 45 seconds or less.

Easy Operation

There are wait and ready lights built into the fabric steamer, so you know exactly when to start using your steamer. One button for steam output.

Red light: Preheating

Green light: Preheating finished

Powerful and Efficient

This steamer ensures quick steaming performances in less than 45 seconds, you can de-wrinkle anytime at home or in hotel. 110 ml large water tank with 800 W supercharged power provides up to 8 minutes of continuous steaming.

Compact Size

Our homeasy handheld steamer is compact enough with pulm size to bring in your suitcase when traveling. It also includes a bonus travel pouch, for easy storage.

Useful Brush Head

The attachment helps remove the lint from clothes and clean visible dust from fabric.