Description
💪【 POWERFUL MULTIFUNCTIONAL MASSAGE GUN】: HOPOSO massage gun is used to relieve muscle stiffness and soreness, promote blood and lymph circulation. It's a physical therapy gun, which can improve the overall health of the body's soft tissues, prevent inflammation which caused by adhesion between the fascia and muscles. Particularly suit for athletes, rock climbers, fitness instructors, hiking, quickly relieve muscle fatigue and pain, accelerate recovery.

💪【6 REPLACEABLE MASSAGE HEADS】:A deep tissue massage gun which offers 6 customized massager heads,provides a relaxing massage experience.Activate the muscles.Stimulate blood flow,greatly reduce muscle recovery time,and relieve pain from head to toe.

💪【30 Modes And Ultra-Quiet Massage Gun】: HOPOSO massager gun adopts high-quality motor, which has ultra-strong heat dissipation function, no crash, it can run for a long time and have 30 Adjustable massage mode ,1800(low)- 4800(high)/minute, You can adjust the frequency according to the different parts of the massage.the high-precision mould connected the machine head and the body tightly, the noise in the process of running can be effectively reduced, is about 42db.very quiet.

💪【Rechargeable Cordless Massage Gun】: The cordless massager is equipped with 2400mAh high-quality lithium battery, so it can keep working about 8 hours(Lowest gear) after per charge ,max gear is about 6 hours. Charging time is: 4 hours, The body massager has an LED battery indicator so you don't have to worry about power outages.

💪【Excellent Design】: The Portable handheld massager weighs about 1 KG (2.2lbs), the ergonomic designed grip minimizes external tremor and the durable anti-slip silicone grip makes the massager easier and comfortable.

When you're done with your workout, your body's in a heightened state. But a massage gun can, in theory, help you relax your nervous system. The sooner you fire up your parasympathetic nervous system, which helps govern rest and relaxation, the sooner your body shifts into recovery mode.

Led Touch Screen

Easy operation with the LED touch screen,you can control the speed which you perfer

Multi-Ventilation Heat Dissipation Design

Equipped with vents on both sides and on top,the massage gun has an expanded heat dissipation area,increasing its product life.You don't need to worry about overheating even if you use it for a long time

Powerful and Quiet Brushless Motor

The new generation ultra-low damping technology is equipped with an aerodynamic noise reduction shell,rear motor fliter,and sound insulation plate.It is quieter compared to competitors.

30 Speeds with MAX 4800RPM

Choose your desired speed based on muscle group and your own preference(30 adjustable speed level,ranging from 1200 to 4800 percussion/mins).16 mm amplitude provides deep muscle relief and overall recovery,decreasing pain and increasing range of motion.

Long Battery Life

The HOPOSO massage gun is equipped with a Lithium Ion rechargeable battery. The battery is not replaceable. It can keep working about 8 hours after per charge. Charging time is 4 hours.

Silicone Protective Cover

Massage gun grip has a silicone cover ,which provides a sturdy grip that won't slip.

What Can HOPOSO Massage Gun do ?

DEEP TISSUE PERCUSSION MASSAGE GUN

HOPOSO MASSAGER GUN is a cordless and rechargeable massage device, it works by delivering strokes(pulse of pressure) into deep tissue.

This form of deep-tissue massage can relieve sore and stiff muscles, soothe the tissue around them to improve body mobility,Perfect for you to solve the muscle soreness caused by sports, hard work and other activities.

Relieve muscle aches, pain soreness and stiffness.

Speed up muscle recovery and boosts everyday mobility and flexibility.

Promotes Muscle warm up,reduce your risk for exercise injuries.

Reduce over all stress and anxiety by relieving muscle aches and pains leaving you feeling rejuvenated.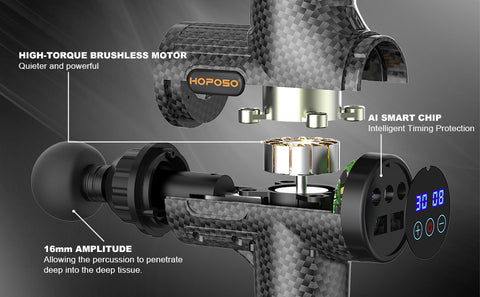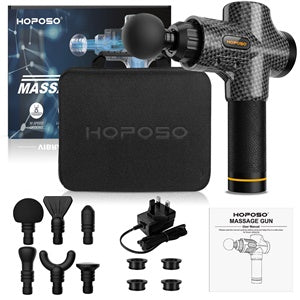 6 Replacement massage heads for body massager
1.Round Head: For large muscle groups such as arms, back,hips.
2.Taper Head: For or deep tissue such as merdians,joints,palmas.
3.Flat Head: For relaxing and shaping each muscle part,sensitive muscles relaxation back.
4.'U' Shape Head: For neck,spinal and Achilles tendon massage.
5.Thumb Head:For massage soft tissue abdominal muscles.
6.Spade Shaped Head:Used for whole body bones muscle
Tips:
1: The battery is not replaceable, please not to pull the battery out.
2: Do not use the massage machine while charging.
3: Please refer to the instruction manual and schematic diagram for proper use.
4: Do not use if there are metal contents in the body.
5: If there is an error, it is because the protection device is activated, please restart it.