Description
8192 Levels Pen Pressure Sensitivity: Huion graphics tablets after 4 times upgraded from 2048 to 8192. Provide accurate and better performance in drawing lines. 5080LPI clearly present your artwork

2.4 GHz Wireless Connection: Q11K drawing tablet allows to work cable-free due to the built-in 2500 mAh Lithium-ion battery. Can be continuous used for about 40 hours. Support Wired Connection: can be connected with Micro USB cable

Newly Designed Pen: The newest rechargeable pen PF150 has 2 customizable buttons. Come with a new pen stand which allows you to put the pen vertically or horizontally

Huge Working Area: 279.4mm X 174.6mm drawing area without worrying about restricted by drawing space. 8 Customizable Express Keys design to save time and improve work efficiency

OS Compatibility: Works on Windows 7/8/8.1/10, Mac OS X 10.10.0 or later. Drawing Programs Support: compatible with major drawing programs such as Adobe Photoshop, Lightroom, Sketchbook, Manga Studio, Clip Studio, Zbrush, Krita and so on

Huion INSPIROY Q11K need to be connected with your PC with Micro USB cable or a USB receiver to work. The pen drawing on the tablet surface replace the traditional mouse and make drawing on PC easy and convenient. Ideal for digital draw, paint, edit, sketch and more.
Driver Download and Installation
Driver Download: Our driver will be regularly updated, so please go to

 

Huion official web

 

to download the newest driver, and install it on your computer.
1 For Windows Users:
Please make sure there is no other brands driver on computer and close all drawing program before installation. (IMPORTANT) Please run as administrator when installing the driver.
2 For Mac Mojave (10.14), Catalina (10.15) Users:
Our driver is compatible with Mac OS Mojave (10.14) and Catalina (10.15), please install the newest released driver on your computer and add the "

HuionTablet

" and "

TabletDriverAgent

" into the whitelist first after installed the driver.

Simple steps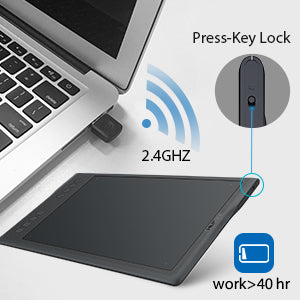 Wireless2.4Ghz and Wireless lock
2.4GHZ connection with your PC and the tablet via a USB receiver. The wireless distance ranges to 10-20 meters. There is a built-in Lithion battery with 2500 mAH which allows to be continuously used for about 40 hours.
A small switch on one side can lock the wireless function at once, can quickly connect or disconnect.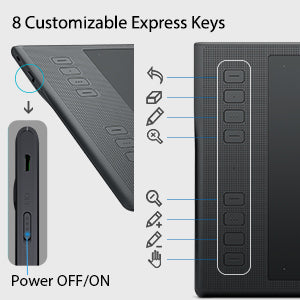 8 Shortcut Keys and Press-key Lock
It comes with huge working area of 279.4 x 174.6mm without worrying restricted by working space. The 8 customizable shortcut keys design to speed up your work flow. You can set them as your favorites.
A small switch on one side can lock the tablet at once and prevent accidental interactions of shortcut keys.
8192 Pen Pressure Sensitivity
Revolutionary upgrade pen pressure from 2048 to 8192. The drawing lines will be more accuracy and realistic. The 8192 levels of pressure supported by the pen make for a very smooth writing or drawing experience.
Come with a new pen and new pen holder. There are 2 buttons on the pen which can be set according to your needs. Fully charged of the pen can be used for about 350 hours. The new pen holder features never fallen down. And it allows to place the pen vertically or horizontally.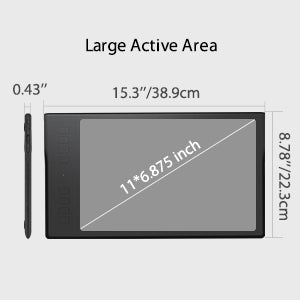 Large Drawing Area & Wide compatibility
1. Made with hi-end materials, the 11-inch drawing area of this tablet boasts great performance and amazing touch sensitivity.
Suitable for both left-handed and right-handed users.
2. OS & Drawing software support
Windows, MAC OS and other mainstream systems are all seamlessly compatible.
It compatible with most of the painting software. Such as PS, SAI, CorelPainter, Illustrator, SketchBook Pro, Manga Studio, Krita and more.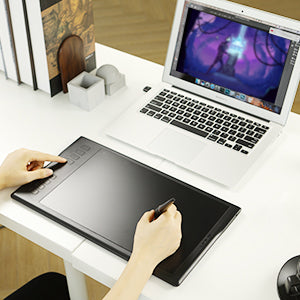 Online Teaching & Working
HUION has equipped many schools, universities and freelancers with technology to make their classrooms, lecture halls and working spaces digital. This includes solutions for remote teaching, collaboration in virtual classrooms, virtual teams and video conferences. Can works with web conferencing or broadcasting software.
Work more efficiently with Huion tablet.You can use it for online conference purpose,Web Conferencing, Webinars and Screen Sharing.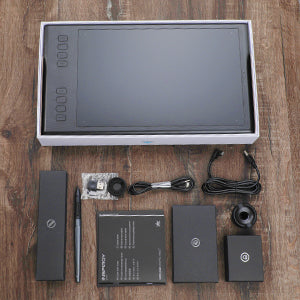 What's in the box
1 x Huion Inspiroy Q11K Graphics Tablet
1 x Rechargeable Pen PF150
1 x Micro USB Cable
1 x Pen Charging cable
1 x Wireless Receiver
8 x Pen tips
1 x Pen Holder
1 x Installation CD
1 x Quick Start Guide