Description
👑Combined the ergonomically designed battery free pen PW100 with 8192 levels of pen pressure sensitivity, this pen is of great precision and control.PW100 is the first battery-free stylus in Huion, you can use the pen smoothly without charging, without worrying about pen charging.

👑6 programming buttons on the left side of Huion Inspiroy H640P drawing tablet,which can help you to keep your preference shortcuts easily. You can set different shortcut key combinations for discrete animation software to save all your favorite shortcuts conveniently and quickly. They can be set as a brush tool, zoom-in/out, undo, hand tool, eraser, etc. It helps improve creation efficiency.

👑The drawing tablet of the digital tablet is coated with top-level materials to ensure long-term use and good texture.The surface of the H640P is covered by high-end wear-resistant fiber material plus with special processing technology, you will have a real paper feel when drawing in this tablet.

👑Huion Inspiroy H640P drawing tablet is 260 x 147.7 x 8mm, the net weight is 277g, you can bring it to outside easily. The working area of PC is 6.3 x 3.9 inches, and the working area of mobile phones is 2.46 x 3.94 inches. Huion H640P graphics tablet is a graphic drawing tablet that can show your creativity and talents. Perfect for beginners in digital drawing.

👑Huion Inspiroy H640P graphics tablet is not only compatible with Windows or Mac OS, it also supports Android devices. The Upgrade H640P now supports connections to Android devices 6.0+ through the OTG connector, giving you a whole new creative experience Experience with extreme portability and potential.

Bring your ideas alive on the tablet.
Ultrathin & Compact Graphic Drawing Tablet
8mm in thickness and application of full lamination crafts make the tablet more easy-to-carry. Battery free electromagnetic resonance technology enables users to create at anytime and anywhere.
Compatible with Windows 7 or above /Mac OS 10.12 or above/ Android 6.0 or above( Not suitable for IPhone/IPad).
Driver Download and Installation
Driver Download: Our driver will be regularly updated, so please go to Huion official web to download the newest driver, and install it on your computer.
1 For Windows Users:
Please make sure there is no other brands driver on computer and close all drawing program before installation. (IMPORTANT) Please run as administrator when installing the driver.
2 For Mac Mojave (10.14), Catalina (10.15) Users:
Our driver is compatible with Mac OS Mojave (10.14) and Catalina (10.15), please install the newest released driver on your computer and add the "HuionTablet" and "TabletDriverAgent" into the whitelist first after installed the driver.Simple steps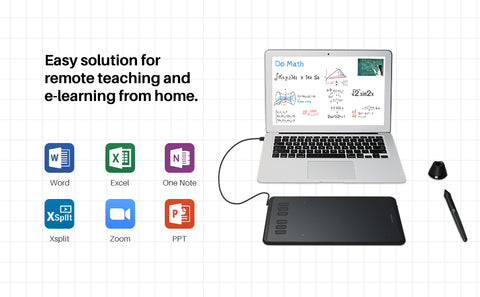 Support for students and teachers
Teaching and learning are no longer be limited to schools and classrooms. Huion H640P graphics tablet is a convenient tool for e-learning and remote teaching. It will help you engage in an interactive virtual classroom anywhere, anytime.
H640P digital tablet can completely replace computer mouse and the paper-like surface will give you natural pen-on-paper experience.

It allows both teachers and students to handwritten edit and write formulas, annotate PDF files, diagram, control presentation effortlessly with the included digital pen through online class, web conference and webinars.

It is a perfect tool to virtually whiteboard, presenting your handwritten notes and edits digitally in real time without interrupting presentation and discussion. It is much easier than trying to writ with a mouse.

Compared to iPad, H640P is a budget alternative for digital note taking.

And it is compatible with most software tools and platforms, including Skype, Microsoft Team, ZOOM, Microsoft Office (Word, Excel, OneNote, PowerPoint), Google Slides, PDF Annotator and more.