Description
🎆 Large Active Area:13.8x8.6 inch large working area and 12 customizable express keys. It is the largest graphics tablet in our store that provides enough space to freely draw on the tablet borderless and boldly. 12 Customizable Express Keys 1.has the most customizable shortcut keys than other graphic tablets of Huion ever do, helping to improve your work efficiency highly and effectively.

🎆Support Wired and Wireless Working Modes: Built-in 2.4GHz USB receiver connect tablet and computer without any cable help to keep a clean and simple desk. The high-speed wireless connection function can transmit signal at a available distance of 10 meters.

🎆Rechargeable pen:Upgraded version with 8192 levels pen pressure, 5080LPI, 233PPS the highest parameters offer better performance in drawing lines which will be more smooth and precise.The new model has better performance and practicability of pressure sensitivity, let you create your artwork accurately and smoothly. Suitable for both Right-handed and Left-handed users;

🎆2000mAh Bulit-in Lithium-ion Battery: Last for approximately 40 hours continuous use after 4 hours charging, which allows you to enjoy your creative time with no distractions; Equipped with rechargeable stylus, which can last 800 hours after every 2-hour charge.

🎆4 LED indicators show working status directly and obviously for you to adjust tablet into working status simply and quickly. OS Compatibility: Compatible with Windows 7/8/8.1/10 and Mac OS 10.11.0 or above. Support interface: Micro USB. Provide two-years Warranty, easy to reach support.


Compact Design: Make Full Use of Each Space
There are 12 press keys on the left side of the tablet, which you can set the function on the driver interface according to your own habits, which will help you save lots of time and eliminates unnecessary cumbersome steps that may trouble you.

4 LED indicators of WH1409 are created for users to have a better understanding of the device status, and thus to get the tablet well-prepared for oncoming creative works.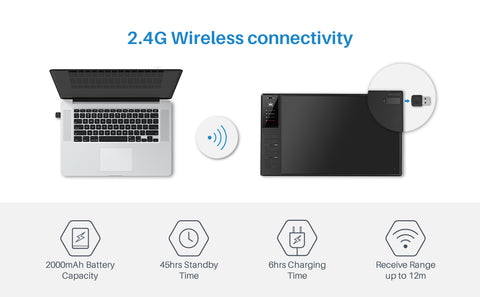 Wired and Wireless Mode-Meet All Your Requirements
USB wireless 2.4 GHz(receive range up to 12m) gives you amazing cable-free working experience, you can even work on your bed or anywhere else. Power switch makes you to change the connection mode at ease.
Wired Mode Connection
Connect the tablet to your computer with the USB cable.
Wireless Mode Connection
1. Insert the wireless receiver to your computer.
2. Toggle the power switch to the left to power on the tablet.
3. When not using for 15mins, the tablet will enter sleep mode. In this case, you need to toggle the switch right- then left to wake the tablet up.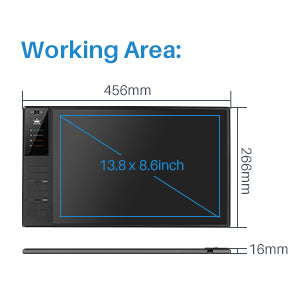 Better User Experience
A large working area 13.8 x 8.6inch, big enough to realize your digital creative ideas.

The 2000mAh lithium-ion battery of Huion WH1409 that allows you to create for more than 45 hours continuously.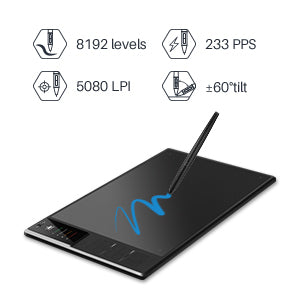 Bring Out Inspiration and Creativity
With ±60 degrees of natural tilt recognition, you will have much more fun when drawing. Provides a more accurate and natural drawing experience.

8192 levels pen pressure and 233PPS report rate of PE150 ensures instant feedback to any pen movements, without any lagging and compromising of accuracy. This graphic tablet ensures every stroke stand out and infuses vitality into your works.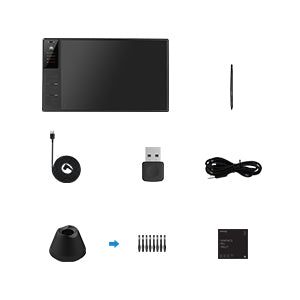 What's in the box
WH1409*1

USB Cable

USB Wireless Receiver

Rechargeable Pen PE150

Charging Cable for PE150 Pen

User Manual

Pen holder(8 Pen tips and 1 Removal Ring inside)