Description
【Deep Massage,Soothing Body and Mind】:16 massage heads of different sizes alternate with each other to bring better massage effects. The iKristin neck and shoulder massager can move freely to adapt to most parts of the body (from shoulders to feet) for full body massage. 4 powerful 3D massage nodes, which automatically change direction every minute, helping you to relax from a whole day of heavy work or physical exercise

【Upgrade Design,Easy to Carry】:We have added 2 hangers (2 inches) to the neck massager, which can not only provide you with a better massage experience, but also make your hands more comfortable during use. The massager is equipped with a household power adapter and a car charger. So you can sit on the sofa, watch TV and have a relaxing (or more intense) shoulder massage, or have a thermal induction massage in a car or travel, and enjoy a private massage anytime, anywhere

【Easy to Use Advanced Materials】: Just plug in the power source and press start. It feels as flexible as a human hand. You can also select heating options to provide other benefits. The massager is made of high-grade durable materials. The net-like dust-free cloth can prevent the neck massager from accumulating dust, High-grade PU leather can be kept clean by simple wiping and can be used for a long time

【Heat Therapy, Overheat Protection】:iKristin Shlouder massager has an optional heating function. It has a 15-minute automatic shutdown function to avoid excessive use when falling asleep. The heating temperature is suitable for human body temperature (113°F / 45°C), with overheat protection function, and assist the neck and back massager to provide comfortable deep tissue kneading massage. When the temperature reaches (113°F / 45°C), the high temperature will remain constant

【 Widely Used,The Best Gift】:Our neck and shoulder massager is suitable for the elderly,housewives,office workers, students, drivers, people after exercise.The neck and shoulder massage pillows are very suitable for birthday gifts, Father's Day gifts, Mother's Day gifts, Anniversary gifts,Christmas gifts, Valentine's Day gifts,etc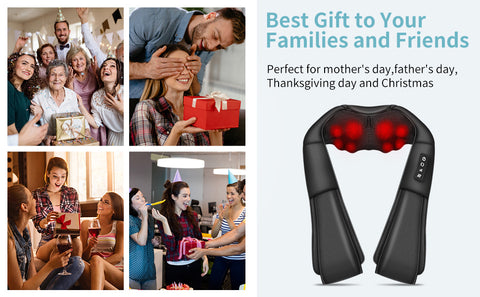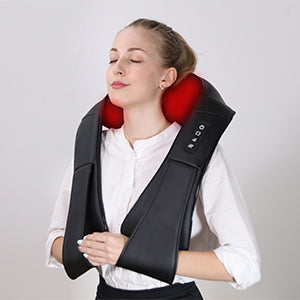 Brings Relaxation to the Neck & Shoulder
Most of us may feel the need to relax our neck and shoulders after our daily routine. iKristin has been designed with a powerful motor and 4 kneading nodes to relax your muscles for you.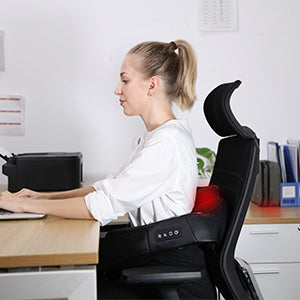 Uper & Lower Back Massage
When we sit for a long time, our backs may say "help" to you. The iKristin Shiatsu massager with heating function can always relax the back muscles.
Have a Shiatsu Massage after Long Walk
Nowadays most of us chose a low-carbon lifestyle, then we need to walk more to protect the environment, with iKristin shiatsu massager you don't have to worry your leg muscles getting tense.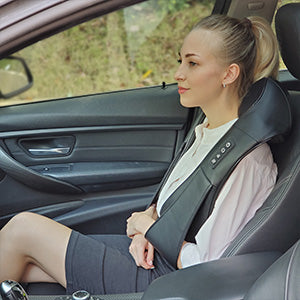 A good assistant on the journey
Driving on a long journey leads to back pain, wearing iKristin back massager during the break, to ease the tired shoulders and waist, (Note: please do not use when driving A lot of acupoints spread over our feet, do a daily 15min-massage for your feet is a good way to keep your health.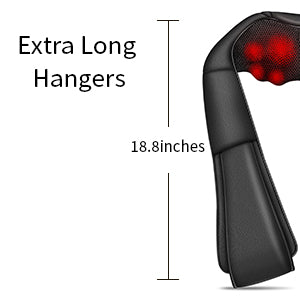 Upgraded Hangers
We extended the length(2 inches) of the 2 hangers on our neck massagers, which can provide you a better massage experience, and also makes your hands feel more comfortable when you using it.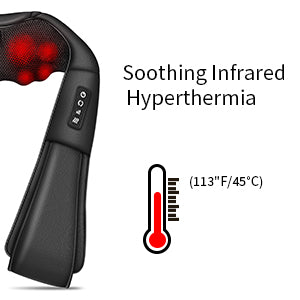 Heating Function
When we were children, we complained to our parents where the pain was. Mom and Dad came over with a hot towel, gently covered the painful area, and immediately relaxed.
The "heating" function of this neck and shoulder massager is equivalent to this "hot compress".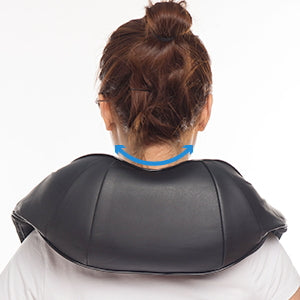 Ergonomic Design
According to the ergonomic design, the upper part of our massager is designed to fit the curved grooves of the head and neck, which improves the comfort of use.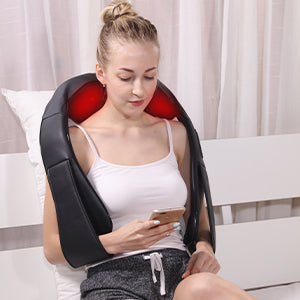 Enjoy Massager
Reading e-books, playing games and enjoying a massage while shopping makes the massage no longer boring.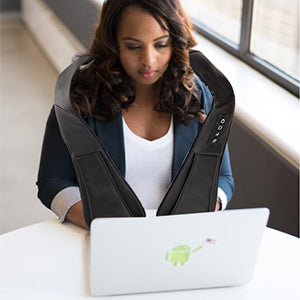 Enjoy Anytime and Anywhere
iKristin neck massager offers comfortable massage experience for your whole body, portable design means that you can use it at home, car, or office. Enjoy shiatsu massager anytime and anywhere.