Description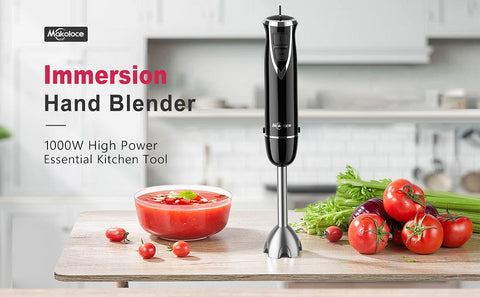 Makoloce 1000W 5-in-1 IMMERSION BLENDER Multifunctional Blender, 12 Speed Stainless Steel Immersion Blender Handheld with 500ml Chopper, Egg Whisk, 600ml mixing beaker.
Makoloce 5-in-1 immersion hand blender can be used as smoothie maker +food processor+soup maker+hand mixer+milk frother.
High qualiyty 304 stainless steel body, powerful titanium blades which instantly blend and crush your healthy ingredients in no time and turn them into the healthiest and the most delicious meals created in your own home.
Unique shape design keeps splashing to a minimum to keep you and your kitchen spotless.
Ergonomic handle with easy one-handed operation make it easy to grip and comfortable blending.
You can make salsa, pesto, pancake and watter, batter, smoothies, cheese sauce, homemade tomato sauce,hollandaise sauce, whipped cream, apple butter, various Indian dishes, soups and cakes, coffee much more at home.
Enjoy cooking and free yourself from endless mixing, chopping and beating with the Makoloce hand blender set.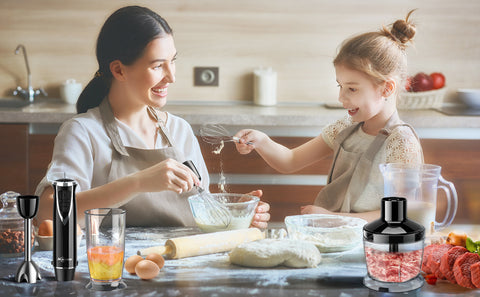 It has never been easier to prepare healthy and delicious homemade food!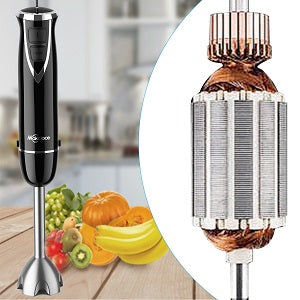 High Power & Low Noise
The immersion blender has a high powered 1000 Watt motor to handle more blending tasks quietly, and perfectly compatible with 120 volts. Adopt advanced noise reduction technology to avoid discomfort caused by excessive noise.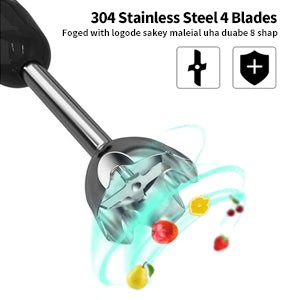 Upgraded Sharp 4-blade Blade
Different from the simple 2-blade blade, the Elechomes 4-blade hand blender has a multi-angled edge design, which allows it to more fully contact the ingredients during the mixing process and crush them evenly to achieve the desired cook effect. Food-grade materials can safely come into contact with food.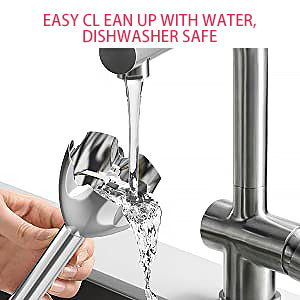 Easy To Clean
Detachable accessories for easy to clean. Simply rinse under warm tap water or top-rack dishwasher safe, but don't immerse the motor into the water.