Description
8 Massage Heads: The percussion muscle massage pistols provide 8 replacement massage heads, providing a relaxing massage experience and reducing bone damage, ideal for massaging muscles, waist, back, buttocks, thighs, calves and other large Muscle group.

Ultra-long washing time: 2200mAh high quality rechargeable lithium battery, ensures 4-6 hours working time (low speed), takes 3-5 hours to be fully charged. Only 2.2 pounds, is possible to use the gun muscle massage at home, in the gym, in the office, etc. Automatic shutdown after 10 minutes of continuous use to protect the motor from.

4 Adjustable Speed Levels: The physio massage gun offers 4 different speed levels. High torque 24W motor strokes from 1800 to 3200 times per minute. You can choose a preferable speed of the muscle massage pistol for daily massage or post-workout relaxation.

Quiet Operation Noise: The professional deep tissue muscle massage pistol has a fairly smooth noise reduction technology. Width the maximum speed level, the massager pistol will not exceed 50 dB.

PERFECT GIFT IDEA: The professional deep tissue massage pistol helps you get instant pain relief, reduce overall stress and anxiety, it's a perfect gift idea for parents, friends or someone you love to achieve a healthier life.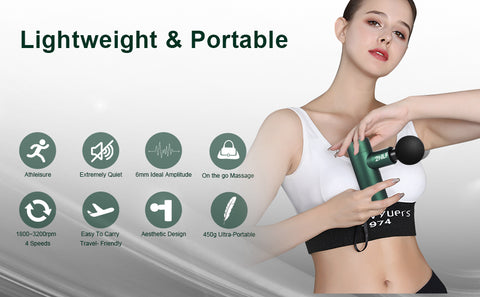 Electric muscle massager has 4 different professional speed modes.
4 Professional Speed
MODE: 1800RPM Muscle excitation

MODE: 2400RPM Relaxation Relaxation of the fascia

MODE: 2800RPM Massage Deep massage

MODE: 3200RPM A high intensity massage
8 Massage Heads
U-Shaped Head / U-SHAPED Ⅱ HEAD: For neck, spine and Achilles. Recommended duration: [30s ~ 1 min x 3 times]

Ball Head: Suitable for large muscle groups such as arms, hips, legs, etc. To improve recovery and reduce muscle pain. Recommended duration: [1 min ~ 1.5 min]

Flat head / FLAT Ⅱ HEAD: For sensitive spots and muscle relaxation. Recommended duration: [1 min ~ 1.5 min]

Bullet Head: Designed specifically to hit joints and trigger points and release muscle knots. Recommended duration: [30s ~ 1 min]

CRUED HEAD: Relax and massage muscle of all body. Recommended duration: [30s ~ 1.5 min]

FAN HEAD: Massage for back, spine, waist parts. Recommended duration: [30s ~ 1 min]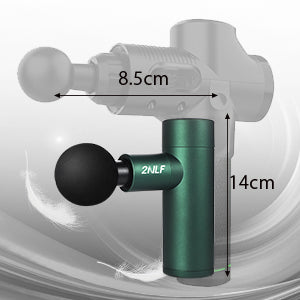 Small in size and easy to carry

The massage gun weighs only about 436g and with a size of 14 * 8.5cm.

It is smaller than an iPhone X.

You can easily grip the gun, put it in your bag or even pocket and carry it with when you work or travel.

One control button

Green LED indicator to show the remaining battery charge .

 

Flash 1 time - remaining 25% battery power. Flash 2 times - remaining 50% battery power. Flash 3 times - remaining 75% battery power. Flash 4 times - remaining 100% battery power

 

Blue LED indicator to show the speeds. Total 4 levels.

 

Change speed from low to high after power on. Long press the button to turn on / off muscle massage gun.

High performance brushless torque motor

The 2NLF muscle massager the drone motor manufacturing technology to make the motor.

High torque brushless motor features high vibration performance, noise level of only 35dB, also effectively extend the life of the item. You can use it at home, in the gym, in the office.

Packing List

 

2 * Flat Head

1 * Ball Head

1 * Bullet Head

2 * U-shaped head

1 * Crued head

1 * Fan head

1 * Carrying Bag

1 * Instruction Manual

1 * Massage Gun

1 * Type-C Charging Cable