Description
ALLEVIATING MUSCLE SORE AND PAIN: Our shoulder and back massager is built with 8 Bi-directional rotation kneading massage heads which give you the human hands feel of deep shiatsu kneading massage. The massage nodes change direction automatically every minute which promotes an even better massage experience. Enjoy life to the fullest!

ADVANCED SOOTHING HEAT FUNCTION: Heated neck and shoulder massager will help soothe fatigued muscles and reduce stress. The breathable mesh fabric promotes heat penetration and allows flexible mobility of the massage nodes. This massager is built with overheat protection and a 15-minute auto-shutdown feature to ensure safety while using. You can turn on or off the heat to achieve the coziest massage depending on your needs.

3-SPEED OPTIONS: This shoulder massager has 3-speed strength level options which allow you to choose the pressure that suits your needs to relieve muscle pains. You can also adjust the massage position and intensity by maneuvering the handle belt. You can use it all over your body from head to toe.

DURABLE AND SKIN FRIENDLY MATERIAL: This classic-style electric neck massager is made of high-quality PU leather and breathable mesh fabric which allow you to enjoy a comfortable and relaxing massage. It is easy to use and clean.

IDEAL GIFT for Family and Friends: This portable massager is a great stress reliever for home use, road trips, car use, office use and more! It comes with an AC wall adapter (UL Listed) and a car adapter both with a 6ft long power cord. We offer 1 year warranty and lifetime support to ensure your satisfaction. So get it now and make a thoughtful gift for your dear friends and beloved family members!
NOTES:
This massager is NOT cordless. The Power adapter is UL listed and compatible with wide voltage (100-240V, 50/60Hz)

If the connection seems loose, Please try to push the connector a little further with force.

This massager is designed to do a deep massage which might be painful for those who are not used to it. If so, we recommend you to put a towel or a thin blanket between the massage point of the massager for a better massage experience.

If you feel that the massager is too heavy for you, we recommended that you lean the unit against the wall or a chair for support while massaging. But don't lay your full body on this shiatsu massager as this could damage the motor inside. (We suggest doing 45 degrees angle as the image show). Too much weight can make it stop working.

This massager is not suitable for people with pacemakers, heart disease, cerebral thrombosis, joint replacement, and other major diseases as well as those who have small skeletons. If unsure, please consult your doctor first before using/purchasing the unit.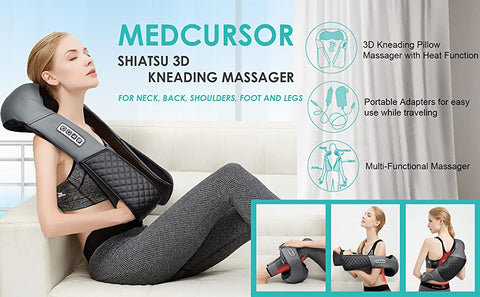 Many people are suffering from shoulder and neck pain, but were not able to find a simple and effective solution to the problem. Undoubtedly, neck, shoulder and back pain can affect daily work and life if not handled properly.
Fortunately, there are many ways to deal with this pain. From well-trained professionals to specially designed equipment, Medcursor is a company specializing in the development of massage equipment.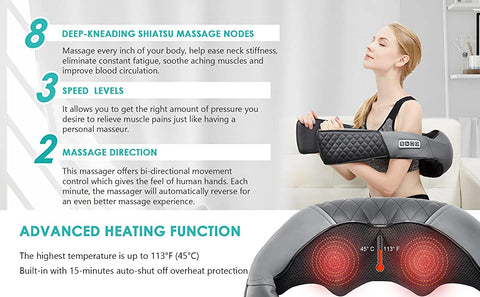 Finding a masseur at a massage parlor is not only expensive but also a waste of time especially if you are looking for the best service. The Medcursor electric neck and back massager is an ideal replacement for this dilemma. It is a perfect way to relax after a long day at work.
FEATURES:
Optional Soothing Heat Function

15 Minutes Auto-shutoff Overheat Protection

8 Deep-Kneading Shiatsu Massage Nodes

3 Speed Strength Levels

Bi-Directional Massage Control

High-quality PU Leather and Breathable Mesh Fabric

Great Travel Buddy with 6ft Long Cord Portable Adapter

The 12v DC power supply output makes it safe to use at home or in your car.