Description
4 in 1 Steam Iron: Steam Ironing, Dry ironing, Flat ironing, Hanging ironing, dry ironing mode can dry your wet clothes quickly, wet clothes can be refreshed in seconds without waiting. A perfect steam iron will save your time in every busy morning. Steam and Go!

Innovative Anti-scalding Base: MLMLANT Handy steamer can be used 360 degree, operate flexibly no matter in left or right hands, refresh the wrinkled clothes in a short time. Innovative base design protect you from scalding.

30S fast heat-up & Intelligent Thermostat Technology: powerful steam spray out within 30 seconds or less, high efficiency, constant tempreture technology keeps your clothes from burning when accidentally leave within 3 minutes.

Lightweight and Manageable: the lightweight body and easy to grip handle make it suitable for home, travel and business trips.

Versatile: suitable for all types of fabrics, including dedicate fabrics, wool, silk, cotton, acrylic and linen. Hanging ironing and flat ironing both is OK. No need ironing board. MLMLANT provides 24 months Quality Warranty. We use our own products daily. We expect the best for our family and guarantee the same for yours.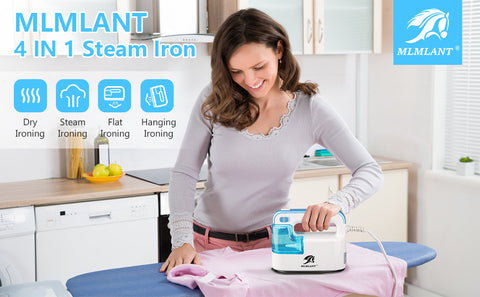 Versatile Machine with Steam Ironing, Dry ironing, Flat ironing, Hanging ironing, Wrinkle and Humidification Functions
This is a versatile machine with steam ironing, dry ironing, wrinkle and humidification functions. MLMLANT 4-in-1 steamer is aslo a great gift to your families which makes them always look fresh and confidently everyday. Portable size of MLMLANT garment steamer for clothes makes it fit easily into the suitcase or carry on bag. Keep your clothes fresh and wrinkle-free during holidays, destination wedding and business trips. A perfect travel companion.
MLMLANT clothes steamer works gently on even the most delicate fabrics. You can freshen many fabrics in your home and are not only limited to clothes. Perfect for bedding, cushions, carpets, curtains, pillow, sofa, kids toy and more.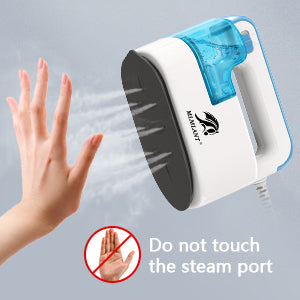 Please don't touch the steam port
Please do not put your hands close to the steam, and all of our steam iron are tested with water before leaving the factory to ensure maximum performance, NOT the USED product!
This little gadget will save you from pulling out the ironing board!
Look no more your larger, heavier and much more expensive traditional iron and ordered this one for quick and easy jobs.
Ceramic-coated constant temperature soleplate keep your clothes from burning when accidentally leave within 3 minutes.
And this travel steamer will automatic shut-off when the tank runs dry or the unit gets too hot.
Package included: 1x MLMLANT Garment steamer, 1x Measuring cup , 1x Base, 1x User manual