Description
Simple & Smart - Add the Humidifier to the SwitchBot App in 3 steps. Easily set a desired humidification efficiency from 1-100% and helpful schedule. Ask Alexa / Google Assistant / Siri to set a comfortable humidity level for you. (*SwitchBot Humidifier only support 2.4GHz Wi-Fi.)

Works with SwitchBot Ecosystem - Automate humidity control with the SwitchBot App Scene feature or IFTTT. Turn on the humidifier when SwitchBot Meter detects too dry in room.

Well Performance & All Day Use - With a 3.5L/0.9Gal tank, it can work up to 48 hours. 360° rotating nozzle ensures an even level of humidity distributes in home. High spray mist up to 24 inches avoids fogging and wetting nearby furniture.

Ideal Humidifier for Bedroom - Monitor and maintain the humidity of your room as you like with AUTO mode. The working sound is lower than 36 dB. Add your favorite essential oil and fall asleep with a restful sleeping environment.

Top-fill Design & Save Energy - Fill water from the top directly. The ceramic filter secures clean and healthy mist. Ultrasonic design for safe use & energy saving. 1 year warranty and lifetime support from SwitchBot.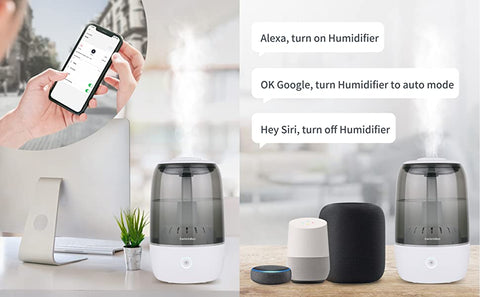 SwitchBot, a simple switch to a smart home. SwitchBot team dedicated to designing and creating the most innovative smart home robots. We pride ourselves in making your life simpler the most affordable way.
SwitchBot Humidifier, breathe easier and feel smarter.
SwitchBot Humidifier has one year maintenace period from the date of purchase. If you have any concerns or questions about using SwitchBot products, please kindly report this issue directly via the Feedback in your Profile of the SwitchBot App.
Product Specifications:
Size: 7" x 7" x 11.6" | Power: 100-220V~50/60Hz | Max Run Time: 48 hrs | Applicable Area: 20-40m² / 215-430ft² | Tank Capacity: 3.5 Liters (.9 Gallons) | Volume of Mist Output Up to 220ml/h | Type: Ultrasonic Cool Mist | Essential Oil Compatible: Yes | Auto Shut-off: Yes
Why Smart Humidifier
3 steps to set up your SwitchBot Smart Humidifier. Launch your SwitchBot App, tap "Add device" and choose Humidifier then follow the App's guide to add the device. By touching the button, you could set the running mode as High/Medium/Low/Auto. The Humidifier will keep the humidity at the desired level with Auto Mode. You could even set the humidity efficiency from 1%~100% or schedule it to turn on/off with the App.
SwitchBot Smart Humidifier works with Amazon Echo devices (Echo Show, Echo Dot, etc.), Google Nest products (Nest Hub Max, Nest Mini, Google Home, etc.) and Apple HomePod. You could enjoy the voice control by saying the magical spell. "Alexa, set humidifier mode to AUTO."
Works with SwitchBot Family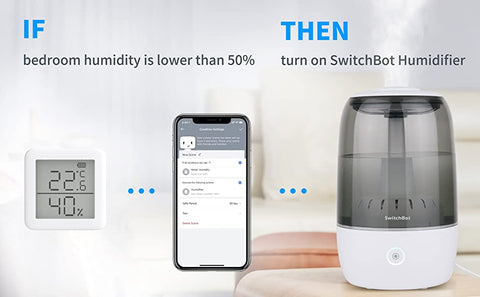 All SwitchBot devices can be connected and work together to make your life smart. For instance, the Humidifier will work with the Meter (SwitchBot Hub device required) with the scene feature in-app, the Meter monitors the humidity and the Humidifier will turn on and run automatically when the humidity condition meets. SwitchBot Smart Humidifier will always keep your home at a desired humidity level.
Besides, the Humidifier also works with IFTTT, create your own applets and find more scenarios and fun with SwitchBot.
Powerful Performance with Large Tank
With a 3.5L/0.9gal water tank, SwitchBot Humidifier can work up to 48 hours. Releasing 220ml mist per hour max, quickly humid your room to a comfortable environment.
A 360° rotating nozzle with 24inches spray mist ensures an even level of humidity distributes in a home (up to 269 ft²) while avoid fogging and wetting your furniture at the same time.
2-in-1 Humidifier and Diffuser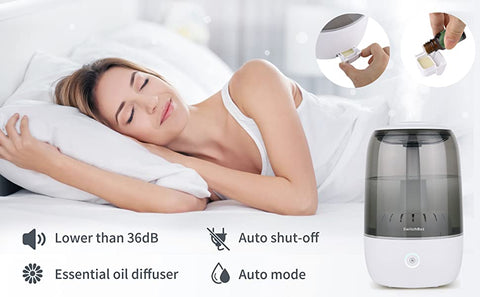 One ideal humidifier for your bedroom or office, add your favorite essential oil* to SwitchBot Smart Humidifier and let it spray the aroma mist, the max working noise of the Humidifier is lower than 36dB. Don't worry about safety issues, the Humidifier will automatically shut-off while it flop or lack of water. (*Not included in the package)
Top-fill Design and Easy to Clean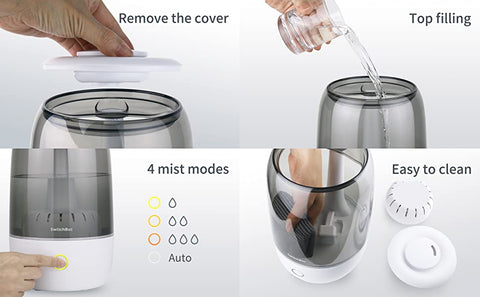 With a large-round filling hole (4.9inch diam) and a transparent container, you can easily check the water level and fill the tank directly from the top. Thanks to this new design, regular cleaning is simple too. What's more, with a ceramic cleaning filter that can absorb impurities in water, the Humidifier can ensure the mist is clean and good for your health.