Description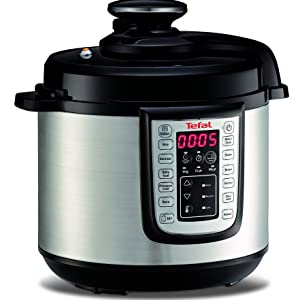 dishwasher-friendly accessories.
Tefal all in One Electric Pressure Cooker
Healthy and delicious meals in minutes
Prepare delicious, nutritious family meals quickly and easily with Tefal's All-in-One Electric Pressure Cooker.
It's so easy to use: just put your ingredients inside, add liquid, close the and select a cooking programme. Using pressurised steam, All-in-One cooks food faster, while locking in food's natural flavours and goodness for meals that are both delicious and nutritious.
There are 25 cooking programmes to choose from, including delayed start and keep warm functions. The hinged lid provides added convenience while the separate pressure release button allows a safe release of steam. Tefal All-in-One is a family-friendly 6L and comes with a host of
At a glance:
Time-saving, easy-to-use Tefal pressure cooker

25 one-touch cooking programmes for simple cooking

Cooking functions include pressure cooking, slow cooking, steaming

Recipe functions include rice, porridge and baby food

Hinged lid for safety and convenience

Separate pressure release button

Manual mode, Delayed Start option (24hrs), Keep Warm function (24hrs)

30-recipe booklet, 6L capacity in a compact design

Cook healthy meals faster and more easily

How does this Tefal pressure cooker cook so fast? The secret is pressurised steam. The sealed lid traps steam, increasing the pressure and the temperature inside the pot, speeding up the cooking process. The higher the pressure, the faster food cooks. Pressure cooking also locks in more vitamins and natural flavours, ensuring maximum taste – all while cutting down on kitchen time!

25 one-touch programmes make it incredibly easy to cook all your favourite dishes. All-in-One gives you pressure cooking (high, medium or low), slow cooking (up to 9 hours), browning (seven levels), simmering (three levels), steaming (three levels) and baking, all in one appliance. It also has specific recipe functions for rice, porridge, baby food and stew/soup (three levels). There's no need to watch the pot; All-in-One cooks by itself, leaving you free to enjoy the company of friends and family.

Customisable cooking

Follow a recipe. Or create your own

The All-in-One pressure cooker comes with a recipe booklet comprising 30 unique recipes for your culinary inspiration – everything from beef bolognese or chilli con carne, to braised lamb or steamed fish parcels.

Think that mushroom risotto will take hours to make? All-in-One can have it ready in just 6 minutes! You can even use this versatile pressure cooker to make delectable desserts. How does a chocolate-vanilla marble cake or baked plum clafoutis sound?

Recipe booklet of 30 unique recipes included

DIY Chef mode to adjust cooking time and temperature manually

Delayed Start and Keep Warm functions for cooking flexibility

Convenient and safe

All-in-One has an easy-to-open, hinged lid (so, no mess on your worktop) which stays completely sealed and locked lid during cooking for safety.

Easy to clean

All-in-One comes with a steam basket, trivet, measuring cup and spatula, all of which are dishwasher safe for ultra-easy cleaning.

Repairable for 10 years

Tefal products are designed for low-cost and easy repair for 10 years. Parts will be delivered quickly to one of our 6500+ repair centres worldwide.