Description
Latest Bluetooth 5.0 - Comparing to those with Bluetooth 4.2, Balhvit wireless headphones will offer you twice speed of transmission and more stable connection without the signal loss or music dropouts due to the newest bluetooth 5.0. The high compatibility allows it to work on all your devices - cellphones, tablet, PC, laptop, game console even smart TV. The connection distance is up to 10m/33ft so you can enjoy your favorite album when doing the housework with the mobile just left on the sofa

Enhanced Bass & 35H Playtime - Featuring the built-in 13mm large size speaker unit, our bluetooth earphones will achieve better low-frequency dive, better low-frequency looseness, wider sound scale and greater sound clarity. The premium material also makes diaphragms pliable to vibrate to create the lush, impressive and sublime sound. These earbuds can work up to 4-5H on a single charge(About 1H charge time) and the exquisite case is able to charge them on-the-go while extend it to 35H.

Simple Design & One-Button Control - Under the guideline of the simplicity, these earbuds abandon the eccentric appearance but keep the simple color of snow white and one multifunction button which can complete all the operations like music switch or pause, answer or reject a coming call even call up your virtual assistant. The ergonomic shape and moderate size make it fit adult's ear as well as kid's while the lightweight body won't cause much pressure for long-term wear.

Fast Auto Pairing & IPX6 Waterproof - Forget the complex pairing procedures, our intelligent wireless earbuds headphones will connect your device automatically once you take them out of the case after first pairing. They are the great option for sports enthusiast due to the IPX6 material which can endure your sweatiest workouts and free your mind from the worry about the rain.

Package Details & Purchase With Confidence- What you get will be a pair of true wireless earbuds, the charging case, type c charging cable(wall charger not included) and a detailed manual. Each product is equipped with 18-month after sale service and any problem about the product will get responded in 24hr after your enquiry.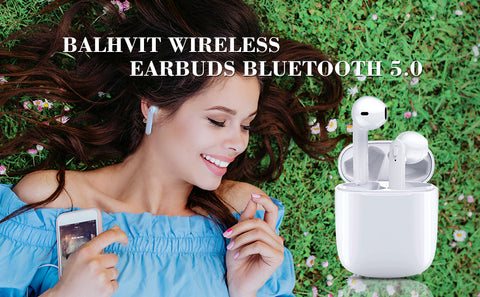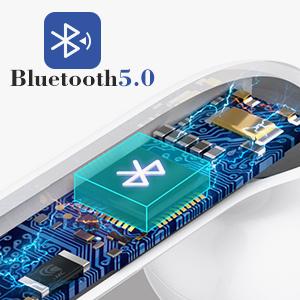 LATEST BLUETOOTH 5.0
The latest chip ensures the solid connection, fast transmission without signal loss or music dropouts with receiving range up to 33ft/10m and low power consumption when listening to music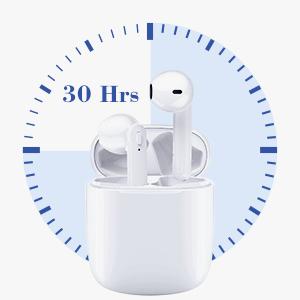 35H PLAYTIME
Big capacity battery allow these earbuds to work for 5H at a time and the fully charged charging case can charge them 6 times to add extra 30H. The charge time for the earbuds is about 1-2H and the time for charging the case is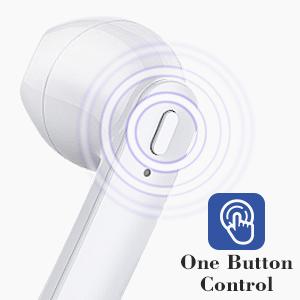 ONE BUTTON CONTROL
One button for all operations-skipping to the previous/next song, volume up or down, receiving/rejecting coming calls, call up your virtual assistant. Simple and Effective.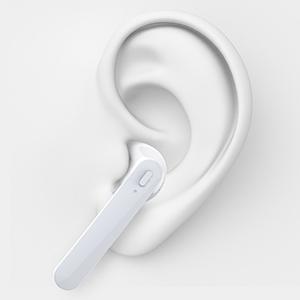 LIGHTWEIGHT & STABLE
Less than 5g for each earbud, you can barely feel its pressure even in long-term use. The ergonomic design ensure it to fit your ears comfortably and firmly.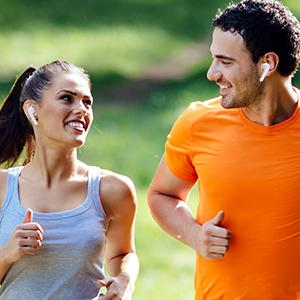 SHARE MODE
Give one earbud to your lover/familiar/friend to share your moment. If give it to your family and friends as a gift, they're gonna love it!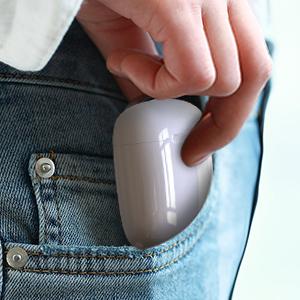 CHARGE ON-THE-GO
Like a car key in size(6×5×2.6 cm), but only weighing 35g, the charging case is built for your convenience to carry the earbuds around and charge them anywhere.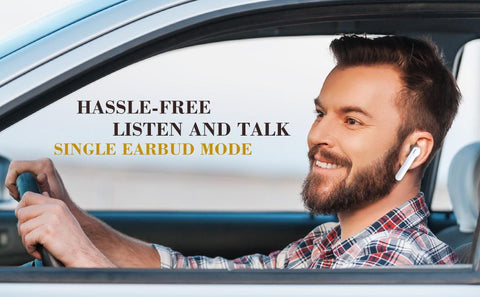 FAQ:
What should I do when one of my earbuds can't pair with another one?
Long press the button of the earbuds for 5s until the light off, then long press the button again for 10s to reset the earbuds(The light will flash at first and then light off). After that, return all of them to the charge case and take them out again, they will pair with each other automatically.
Why the volume of the one is obviously lower than the other one?
There may be some malfunction in the speaker of the earbuds, just contact to get a new pair.
Click our store name(Sold by XXX) and click "Ask a question" button.