Description
Ultrasonic Technology: Ensures super quiet, consistent operation no matter the setting so your living space is evenly humidified with healthy, soothing mist. Prevents dry, smelly air and chapped skin during winter or when in dry locations

Large Capacity: Made of high-quality materials with no hazardous plastics, and a 2.8 liter water tank that can produce mist for up to 11 hours straight with minimum flow or up to 8 hours with maximum flow (with automatic shut down when water runs out)

Air Ionization: A negatively-charged Ion (Anion) Ball inside the filter ionizes humidified air particles, allowing them to combine with positively ionized particles, including viruses and pollution particles, to force them to drop out of the air

LED Night Light: The built-in 7-color night light (purple, indigo, blue, green, yellow, orange, red) can be set to your favorite color or to cycle through all the colors, making it a perfect bedside companion

Aroma Diffuser: Soak the included small sponge in your favorite aroma oil or water and place it back in the humidifier base and enjoy a fresh scent throughout your house or office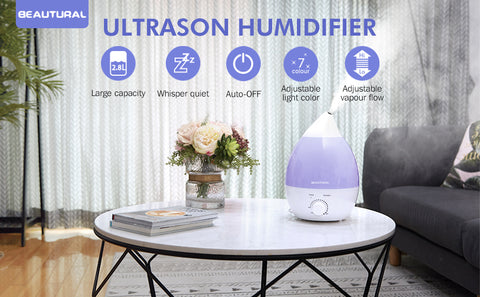 Ultrasonic Humidifing
This humidifier uses ultrasonic technology to quietly release water mist into the air to help temporarily relieve coughing, stuffy nose, and dry skin caused by dry air. Use it in your bedroom or office. The large 2.8-litre tank allows for 10 hours of continuous operation.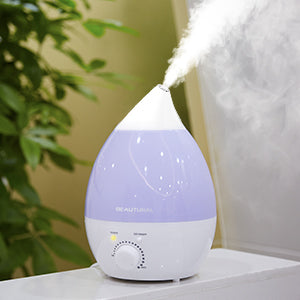 Auto OFF
The humidifier will automatically stop creating mist when the water level becomes too low to protect the humidifier's motor. The night light will continue to shine and an indicator light will notify you that more water should be added.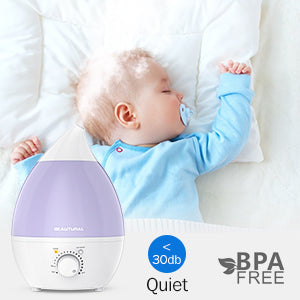 Ultra Silent
Ultrasonic vibrations silently transform water into soothing mist. At only 32 decibels, continue your work or rest undisturbed while the dry air around you disappears.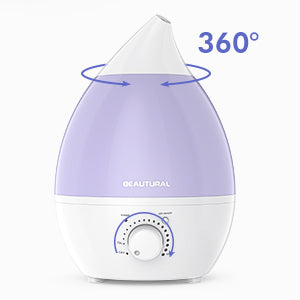 360 Degree Mist Nozzle
Adjust the direction of the mist stream a full 360 degrees by simply rotating the nozzle to your desired position.

Warm Tips for the issue with leaking water:
1.When you find the water pooling at the bottom of the device:
When it's empty you get water droplets inside, so you will get a little water run off when you take the lid off. Be sure that you make sure that the filter piece in properly before inserting it into the base. if the filter is not screwed on straight, that would cause the leaking. And please make sure that you have covered tank to the base.
2.When your humidifier falls to the ground, firstly please check whether the humidifier has been scratched, which will lead to your issue with leaking water and case to burn, in this case please communicate with us and we can arrange a new replacement for you. Besides, when the body is inclined, to prevent burning, please handle this with the power cut off.
3.Please do not add water directly from the water vapor outlet, otherwise, there will be no mist coming out, and the humidifier will leak on your table.