Description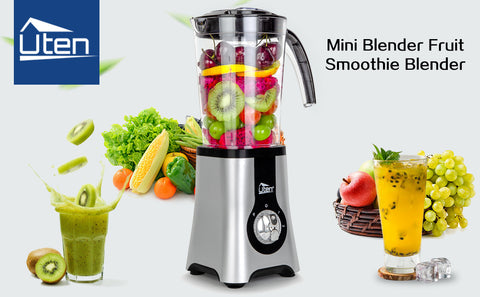 多功能四合一搅拌机
Uten 4 合 1 冰沙机让您制作美味、健康的饮品等等!这款功能强大的设备可用作搅拌机、研磨机、榨汁机和碎冰机,用途广泛,在厨房中非常有用。
搅拌机用于厨房中的各种准备任务,例如搅打奶油、混合沙拉酱的成分,甚至混合成分以获得浓稠、美味的奶昔。虽然使用一个相当简单,但请记住这些提示以获得最佳用户体验。
Nutribullet 营养提取器分解纤维植物性食物的细胞壁,释放其中包含的重要维生素和矿物质。同时,它们将有益纤维、果肉、种子和皮肤减少成丝般光滑的质地,以易于消化、易于吸收的形式将食物输送到您的身体。不仅仅是榨汁、混合和咀嚼,营养提取可以让您获得食物所提供的最高程度的营养。
- 通过纤维茎开裂。
- 爆开种子。
- 撕开纸浆。
- 切碎水果和蔬菜的皮。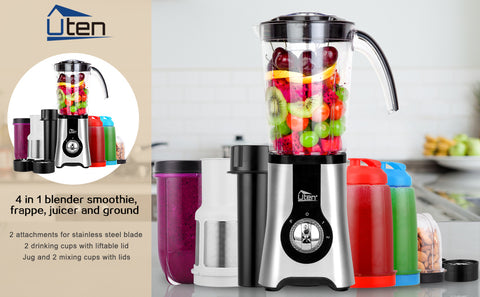 Specification:
Power: 220W

Working voltage: 220V ~

Working frequency: 50Hz

Speed: 22000 RPM

Capacity: 1.25L

Product size: 14 * 14 * 30cm

Weight: 2.45 kg

Two Speed

Keep control over your blending and juicing with the dual speed controls. Use the lower speed for soft foods then turn it up to grinder tougher ingredients like coffee beans. There's also a pulse function for a burst of extra power when needed.

Stainless Steel Chopping Blades

The blender smoothie maker comes with 2 interchangeable stainless steel blade attachments. Use the cross blade attachment to blend smoothies or to juice fruit and vegetables. The flat blade attachment should be used for grinding and crushing.Note: All attachments and accessories are hand washed only and do not go in the dishwasher.

Versatile

With the choice of chopping, blending, mixing, whipping and grinding to produce all types of textures to tantalise your taste buds.

Nutritional Juices

Smooth, cool, tasty drinks from everyday fruits. Use fresh fruit to create juices which are scrumptious and nutritious. This attachment is suitable for a wide range of fruits, including oranges, apples, pears, bananas, strawberries, grapes and grapefruits.