Description
VEIKK A30 drawing tablet can be used for drawing, design, online education, E-signature, as well as photo/video editing etc. It is not only can be connected with computer, as well as mobile phone.You can start your art work with A30 in most software like Adobe Photoshop, SAI, Adobe Illustrator, Corel Painter, Clip Studio, SketchBook , MediBang, Zbrush, Krita, Gimp etc.

VEIKK A30 graphic tablet has 4 touch keys and one gesture pad. If you are younger or those who prefer modern design, VEIKK A30 tablet is the right one which will provide you with a perfect difference touch experience, as well as stable performance.

Battery-free stylus with 8192 professional levels pressure sensitivity,which provides exquisite strokes and making the lines smoother and natural. No battery and charging required, allowing for uninterrupted using.

A30 pen tablet has 10x6 large drawing area which provides more space for art create. It is designed with type-c port which allow to plug in and out with either direction, more convenient and stable. A30 digital drawing tablet also provides more accessories including glove, extra 8 nibs as well as protective film etc.

VEIKK provides one-year hardware warranty and lifetime free driver update, you will get professional suggestion if you meet any problem for all the VEIKK drawing tablets. We are always here for our customers.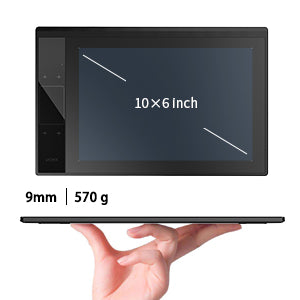 Slim design and super large drawing area
VEIKK A30 drawing tablet is only 9mm thickness and 570 g weight. You can take it and start your art work anywhere!

The A30 graphics drawing tablet provides 10 x 6 inch ultra large active area which provides you more space for drawing.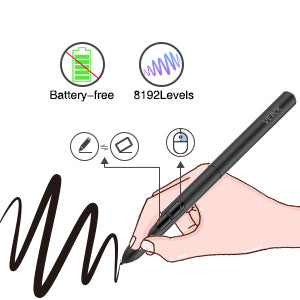 Battery-free pen with 8192 levels pressure
VEIKK P01 Battery free stylus, no battery and don't need to charge, allowing for constant uninterrupted Draw and Play.

It provides at most 8192 levels pen pressure to provide exquisite strokes.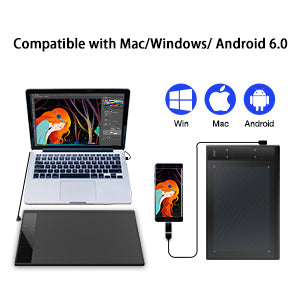 Compatible with Mac/Windows/ Android 6.0
VEIKK A30 drawing tablet can not only be connected with computer, but also with your mobile phone. It is compatible with Android 6.0 or later, Mac 10.12 or above and Windows10/8/7.

A30 is also compatible with major software, such as Photoshop, Illustrator, Sai, Corel painter, Paintstorm Studio, Clip Studio etc.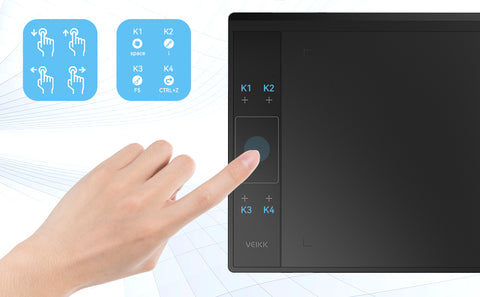 Start perfect hand touch experience with A30 tablets!
By default,A30 touch keys functions are settled for Photoshop. But all touch keys can be customized in different drawing software according to your drawing habit.
Gesture pad is designed for zoom in/out the canvas and brush. You can just use them with your hand.
The functions of Gesture Pad:
Slide up: canvas zoom in /Slide down: canvas zoom out /Slide right: brush zoom in /Slide left: brush zoom out
Touch keys functions by default:
K1: space / K2: i /K3: F5 /K4:CTRL+Z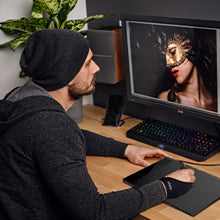 Drawing & Design
VEIKK A30 pen tablet need to be connected with computer or an Android device for drawing or design.

Instead of traditional pen and paper, A30 pen tablet provides perfect art creation experience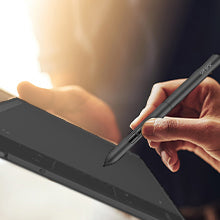 Business Signature
VEIKK A30 graphic tablet can be used for digital business signature in Word, Excel, PDF etc.

It also can be used in banks, hotels, government and offices for signing.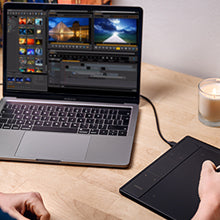 Photo/Video Editing
A30 graphic design tablet works as a mouse replacement, make your Photo/Video Editing process easier and more natural than a traditional computer mouse, speed up your workflow!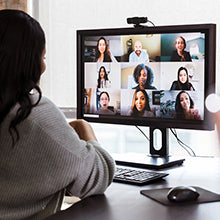 Online Learning & Web Conference
VEIKK A30 drawing tablet can be used to create and explain interactive content visually by writing, editing, and annotating directly in files and sharing their screen in real-time.