Description
【Come With Newest Projector Screen & 720P Native & 6500 Lumens】 V2 projector come with a Condenser Screen for free!!! (Only for the first 150 Customers) Condenser Screen has the latest Light function, if viewed from the front, the brightness of the projection screen will immediately increase by 25%. (The dark side of the screen is the front) Real resolution is 720P. If you have any questions about how to use the screen, please feel free let us know.

【WiFi & Wireless Video Viewing Screen Mirroring Function】 YABER mini projector supports wired & WiFi connection for both iOS and Android system you don't need mirroring exchange facilities, such as swap cable or Anycast, and can directly display the smartphone screen compatible with AirPlay, MiraCast, DLNA on the projector through mirroring.

【 HiFi Stereo & Wide Compatibility】 The V2 mini projector Support HiFi sound with SRS sound system provides great auditory sense experience. Since it can support HiFi, you can also play AC3 movies, so you don't have to worry about turning off the HiFi function like a projector without HiFi function.

【Zoom Function/Large Projection Screen】V2 has a screen reduction function that almost no mini projector can accommodate, and the projection screen can be reduced to 75% by adjusting the screen without moving the projector. Small size, easy to store and carry. And because the projection screen is large, you can enjoy the big screen like a movie theater at home.

【Widely compatible, Lifetime Professional Support】Equipped with HiFi speakers, no need to connect external speakers. It can be connected to various peripheral devices. NOTICE: Cannot connect to wifi or wifi is not stable is not a quality problem and can be solved by Firmware Upgrade. If you have any problem, please feel free let us know.
YABER V2 mini wifi wireless mirroring projectors home theater adopts advanced German LED light source, high quality materials and delicate manufacturing process. Portable and lightweight design, unique curved appearance, offers bright large-screen with fantastic image clarity( Come with a Advanced Spotlight Projector Screen)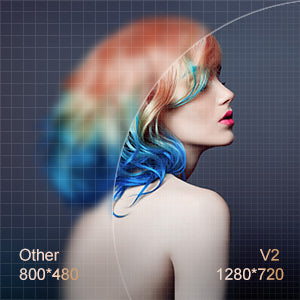 1280 * 720P Native Resolution
The total number of pixels that a projector can display defines the native resolution of the projector. Higher resolutions are especially important for home theater projectors. For example, comparing the number of pixels (resolution) of 1280 * 800 and 800 * 480 with the same screen size, it becomes a 4 times higher definition.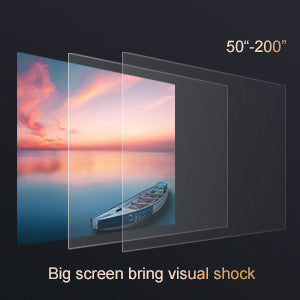 Improve blurring on both sides of the screen
Most projectors have the drawback that the edges of the screen on both sides of the screen are blurred and cannot achieve true full HD. V2 greatly improved this defect, and it does not look blurry on both sides of the V2 screen.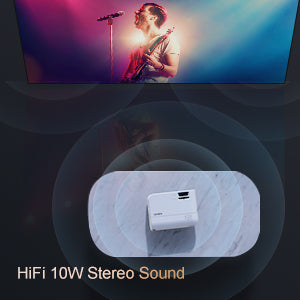 10W & HiFi-Fidelity Stereo Audio
V2 WiFi Mini projector has a perfect sound system. HiFi-Fidelity Stereo Audi sound is supported. When you do not want to connect the projector to the audio system, the dual speakers have 4Ohm and 3W drivers and an integrated SRS sound system to ensure clear and complete audio.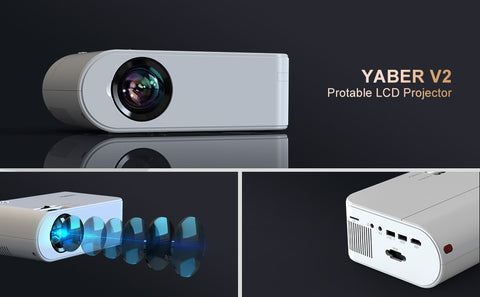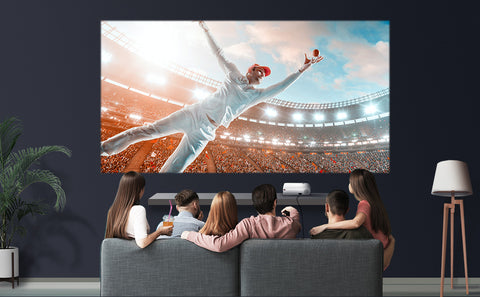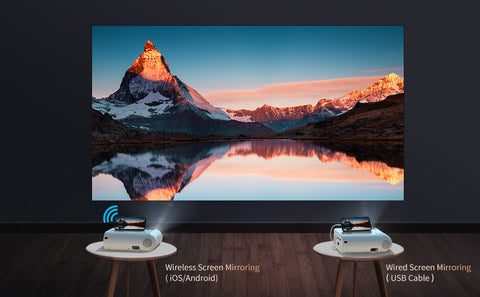 CONNECTION TO SMARTPHONES & TABLETS:
WIFI Easy Operate Connection:
1. For IOS devices: You can choose Wifi Display and turn on the WI-FI function on your devices. Search for the projector WiFi and connect your device to it. Turn on the Screen Mirror or AirPlay function on your iOS devices or open the video APPs directly to mirroring on the projector.
2. For Android devices: You can choose Wifi Display. Click the OK button for more than 2 seconds to switch to Android display interface.
Turn on the Multi-screen or Miracast function on Android device (make sure your Android device supports Multi-screen or Miracast function), and choose the projector.
IOS Devices Wired Connection:
IOS devices can build a wired connection with Wifi Projector via the Projector USB-T interface directly.
Only the Lightning to USB Cable of IOS device is required, it's very easy and quick to use and no extra step is needed.
Warm Tips From Manufacturer:
1. The Wifi network bandwidth should be greater than 50M.
2. Wifi connection stability depends on the distance.
3. Build the Wifi connection between projector and home router at the first time of using.
4. Due to Netflix copyright protection, you should play Netflix from PC or TV Sticks.