Description
▶【New Professional Massage Gun】 Newest upgrade Youlisn massage gun designed with 3 optional modes: Fitness, Physiotherapy & Health Care. Has 4 adjustable speeds which can provide 2000-3200 rpm percussions per minute with 12 mm amplitude. A handheld electric massage gun sends pulses of pressure that provides deep tissue muscle relief, and overall recovery, decreasing pain and increasing range of motion.

▶【6 Customized Massage Heads】 Our deep tissue massage gun has 6 different massager heads to aid in sore muscle relief, providing targeted treatment for every muscle group. Different massage heads and speed level provide a relaxing massage experience and reduces bone damage. Choose the most suitable modes & massage heads on your body condition. Simple and easy, meet more needs in different situations.

▶【Long Battery Life & Fast-Charging】 This cordless massager gun is equipped with 2600mAh *6 high-quality lithium battery which can keep working about 7-14 hours per full charge, akes 1.5-2.5 hours to be fully charged. The massager gun with LCD touch screen display shows speed level and power indicator so you don't have to worry about power outages.

▶【Super Quiet & Easily Handheld】 Youlisn percussion massager utilises the latest technology in noise reduction. Even at the maximum speed level, the gun massager for muscle will not exceed 50db. A quiet motor means a more enjoyable massage experience – quiet as a refrigerator hum. You can use it at home, gym,office. Weighing in at only 1.8 pounds, it's light, A nice carry case is included, easy to hold, and can go with you anywhere.

▶【Perfect After-Sales Service】Youlisn promise 30 day return guarantee and 1 year warranty. If you are not completely satisfied, we will provide a replacement or a full refund! Massage gun is a type of neck, shoulder and back massager that they can really be used by anyone, is a perfect gift idea to parents, friends or someone you love to reach healthier life. ORDER IT NOW WITH NO RISK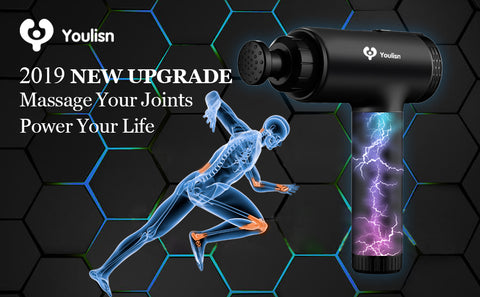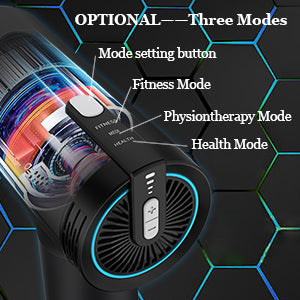 3 Optional Modes
Different from the traditional massage gun design, our massage gun gives customers more choices of massage methods.
Fitness Mode: With the highest speed and torque, especially suitable for fitness exercise, professional athletes.
Physiotherapy Mode: Pressure and speed are increasing gradually. It is designed for point to point local treatment, suitable for physiotherapy club.
Health Care Mode: Lower speed and torque, relatively soft and designed for daily health care at home.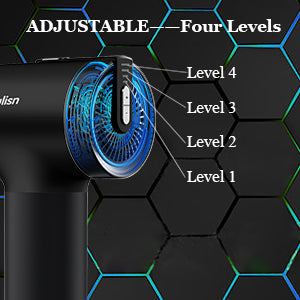 4 Speed Levels
First mode:
Level 1 - 2000 RPMs; Level 2 - 2400 RPMs
Level 3 - 2800 RPMs; Level 4 - 3200 RPMs
Second mode:
Level 1 - from 1600 to 2000 RPMs; Level 2 - from 2000 to 2400 RPMs; Level 3 - from 2400 to 2800 RPMs; Level 4 - from 2800 to 3200 RPMs.
Third mode:
Level 1 - 1000 RPMs; Level 2 - 1400 RPMs
Level 3 - 1800 RPMs; Level 4 - 2200 RPMs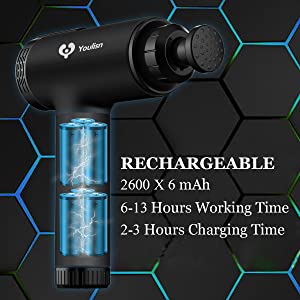 Working Time & Charging
1. Youlisn massage gun have 6-13 hours working time depending on speed level. Charging time about 2.5 hours.
2. When charging, please turn power switch to "ON" position to charge.
3. The LED lights indicate real-time battery level and it will keep flash while charging until fully charged.
4. Battery can be recharged at any time but massage gun would not working while charging.
5. It is not recommended to run out power of the massage gun , or it will damaged battery.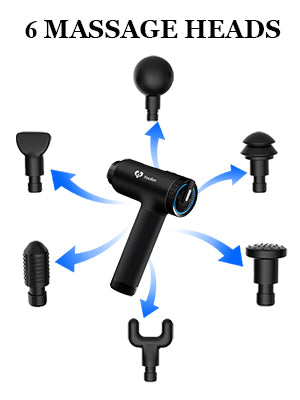 THE BEST CHOICE - Reduce Your Physical Burden
Suitable For All Parts Of The Body
A New Upgrade massage gun in 2019 with 6 massage heads.
The traditional style of massage gun has only 4 massage heads.
What body part is the massage head suitable for?
1. Wedge Head: used for small areas
2. Tree Head: used for shoulder and bony areas
3. Flat Head: used for any part of your body
4. Fork Head: used for spine and neck
5. Bullet Head: used for joints, deep tissue and triger point
6. Round Head: used for large muscle groups