Description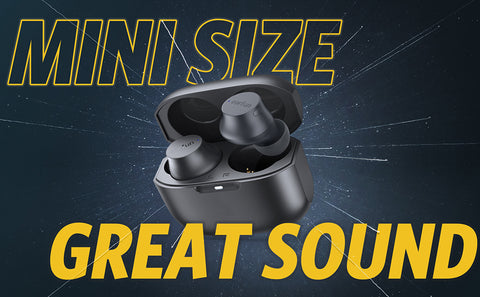 Are you annoyed by unraveling the earbud's wire every time? Are you troubled by the inability of earbuds to adjust the volume? Are you disappointed that the Bluetooth earbuds are too big to carry?
At this moment, you need the EarFun Free Mini wireless earbuds, which will solve your problems. Even if your iPhone is in the bag, you just need to tap the wireless earbuds to enjoy the moment.
What are you waiting for, choosing to enjoy it immediately!
Ergonomic Design, Extra Comfort
EarFun Researched Design Lab creates a secure fit and comfortable feeling for these wireless earbuds.
The three sizes (S/M/L) soft silicone ear tips allow you to find the right fit and keep earbuds sitting close to your ears without falling out and passively blocking some noise.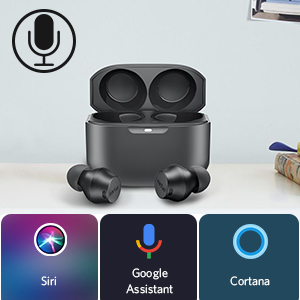 Access Smart Voice Assistants
When you're on the go you can access Siri, Google Assistant, or other voice assistants with one touch on L/R wireless earbuds and hold for 2 seconds.
After that, quickly check the weather, pick your favorite song, or get information to simplify your life - all with your voice.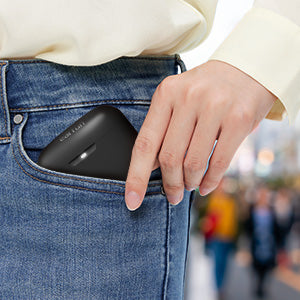 Compact Case, Lightweight buds
EarFun Free Mini is our most compact, lightweight, and convenient wireless earbuds but the charging case can charge earbuds 4 times before it needs recharging.
It's free-burden and easy to carry, fitting in a pocket or handbag for true portability.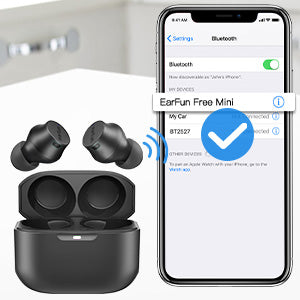 Fast One-step Pairing
Bluetooth 5.0 allows you to instantly pair with your wireless device and keep a secure and reliable connection at a greater distance than before. A pairing sequence is required for initial device recognition.
Note: Please refer to the user manual on how to reset earbuds if one of the wireless earbuds does not connect.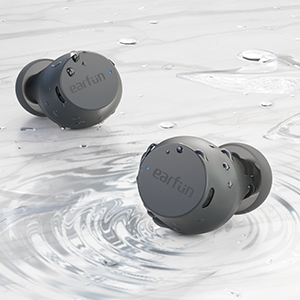 IPX7 Waterproof Protection
SweatShield Technology and IPX7 Waterproof certification efficiently protect the earbuds from water and sweat; the EarFun Free Mini true wireless earbuds are ready for any activity and weather. Note: (Please do not swim with Bluetooth earbuds)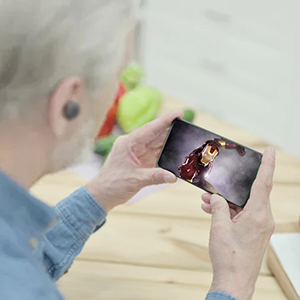 24H Long-lasting Endurance
The wireless earbuds with microphone have 2 x 40mAh batteries and a 470mAh portable charging case. The rechargeable case achieves 24 hours of total playback for all-day music, movies, and gaming.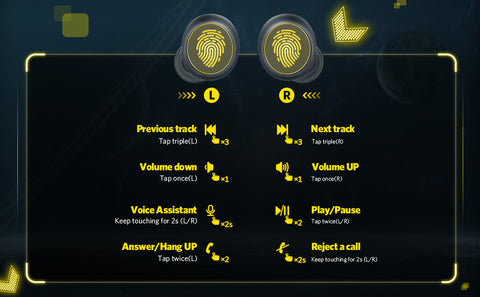 EarFun Free Mini Wireless Earbuds
Lightweight and Portable: EarFun Free Mini true wireless earbuds' single weight is just 0.13oz(3.9g), which fit for ears with no burden.
IPX7 Sweatproof & Waterproof: Built-in Innovative SweatShield Technology will keep every single drop of sweat on the outside where it belongs.
Single Earbud Mode: Only take one of the earbuds from the charging case, the earbud can be automatically paired to your device for independent use.
One-Step Pairing: Take out the earbuds from charging case and then the true wireless earbuds will automatically enter pairing mode.
Fast Charging: A quick 10-minute charge gives you 2 hour of playtime.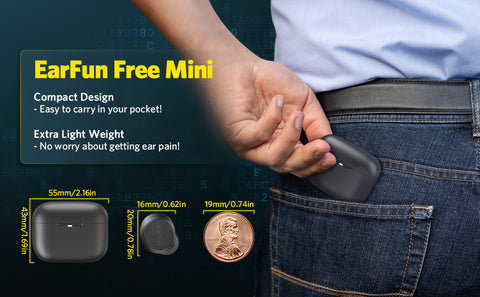 FAQS
How to pair the EarFun Free Mini to my device?
1. Please take the earbuds out from the charging case to enter pairing mode.
2. Find and connect the "EarFun Free Mini"
What should I do if the earbuds don't fit my ears?
1. Please choose and install the ear tip that fits you the best. ( Three sizes S/L/M of soft silicone earplugs are included).
2. Insert the earbuds into your ear canal.
3. Turn and find the most comfortable position.
What should I do if the volume becomes lower?
1. Please use a cleaning stick to gently clean out the protective screen of earwax on the earbuds from dust or wax and then rub them with clean napkins cause accumulated dust or wax on the caps would block out or diminish the volume.
2. Wrap the earbud with your hands, then blow air into the inner membrane of the earbud several times to have a try.
Warm Tips: In order to avoid clogged earplugs, we recommended that you clean the dust filter once in 3-5 days.