Description
HUION
HUION
【NEW Compatibility】: Huion Inspiroy H950P graphic drawing tablet is not only suitable for Windows 7 and Mac OS 10.11 or later, but also can work with Android 6.0 or later, the working area for PC and Android device are different. For phones and tablets, it supports drawing software such as SketchBook, Medibang, Adobe Photoshop Sketch, Bamboo Paper, Pen Up, etc. For PCs, it suits Photoshop, Illustrator, Painter, Sai, GIMP, SketchBook, Clip Studio and so on.

【8 user-defined Shortcuts】: 8 user-defined Express Keys with 1 Shortcut Switch of Huion H950P drawing tablet to customize each keys according to your preference to highly simplifies the shortcut operation of keys combination that we used to do with a keyboard, which greatly contributes to a higher efficiency.

【Advanced Battery-free Stylus PW100】:Huion Inspiroy H950P drawing tablet is equipped with Battery-free stylus PW100, with advance passive electromagnetic technology, allowing your creative inspiration to be released continuously without worry of power off, together with ±60° tilt support, which enables perfect imitation of handwriting input stroke in various shapes on tilt support drawing software and presents the brush tilting effect correctly.

【8192 Levels of Pen Pressure Sensitivity】: Adopted the battery-free digital pen PW100 with 8192 levels of pen pressure sensitivity, together with 5080LPI pen touch resolution upgraded to the master standard, Huion H950P graphics tablet replicates the natural effects and offer you different line display in various thickness which remind you of paper.

【Full Lamination Technology】: Huion H950P graphic drawing tablet's application of full lamination technology and improvement from narrow frame to a frameless feature get rid of inconvenience caused by the previous tablet structure, which in turn facilitate users' workflow and offer broader space for your inspiration.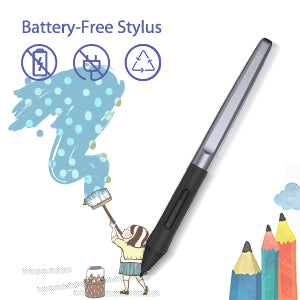 Battery-free EMR Technology
Equipped with sate-of -the art PW100 passive pressure sensitive pen, advance passive electromagnetic technology, and built-in efficient intelligent chip, it breaks the limitation of regular charging, but with extraordinary sensitive hand-in touch, for unrestrained creation. The pen pressure has been upgraded from 2048 levels to 8192 levels which helps you demonstrate work more precise.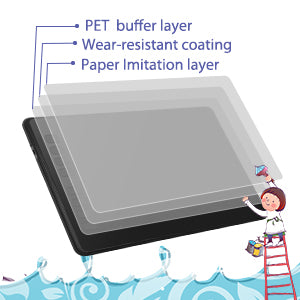 Present Your Creativity on "Paper"
The working area of H950P pen tablet is provided with five layers of high simulation film made of high-strengh wear-resisting fiber, which is wear resistant, heat resisting, and erosion resisting. The nano-particles on film surface reproduce the experience of native freehand sketching.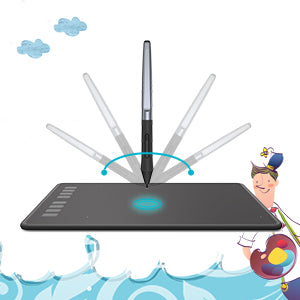 Tilt function
Newly tilt recognition helps you to create more natural and accurate strokes in applications that support tilt-sensitivity.
Note: Please download and install the newest driver.
(Windows:HuionTablet_WinDriver_v14.5.0 MAC:HuionTablet_MacDriver_v14.2.0.180620)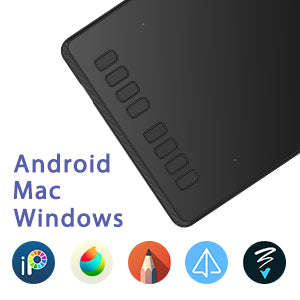 Compatibility
There are eight reprogrammable press keys allow you to set up different shortcut combination from mainstream animation software( Adobe Photoshop, Illustrator CC, Corel Painter, Paint Tool Sai, GIMP2.8.20(only windows), Zbrush, Manga Studio, Clip Studio...) via the driver. Work with Windows 7/8/10 or above and Mac 10.11 or above and Android 6.0 or later, when the drawing tablet is connected to Chromebook, the system must be ChromeOS 88 or later.NOTE: The cursor will not show up in SAMSUNG Galaxy S series, LG at present.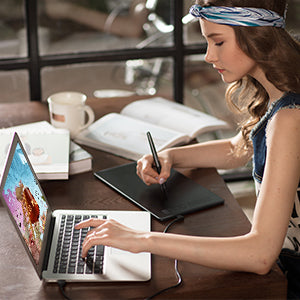 Wonderful Experience
Sufficient and compact working area of HUION INSPIORY H950P drawing pad provides you the most comfortable size to unleashing your creative inspiration. Color your life when you're young! Say goodbye to monotonous life.