Description
◆ 9-IN-1 FUNCTIONALITY - The 2 pipe connectors can be attached to the faucet and the garden hose. There are another 2 brass fittings that can connect with 1/2" and 3/4" faucets according to your demand. Free spray nozzle with 9 patterns (SHOWER - CONE - JET - SOAKER - ANGLE - MIST - CNETER - FULL - FLAT) supports all your needs including gardening, watering, cleaning pets and washing your car or home cleaning.

◆ NEWEST & SUPERIOR QUALITY - The upgraded second generation garden hose is more excellent than the first one. Premium 3300D polyester, dual latex hose pipe,sturdy metal connectors and metal zinc alloy spray nozzle make the 150ft garden hose quite flexible, firm and durable. The expandable garden hose won't break, crack, split or crush thanks to it's premium quality material and durability. You can expect a longer service time from this sturdy garden hose. The ultimate accessory on the market.

◆ EXPANDABLE & FLEXIBLE - This expandable hose starts out from 50FT; when the water is turned on the hose quickly expands up to 3 times in length 150FT with the water pressure (3-12 bar), so long that can reach the entire property with just one hose. The garden hose returns in minutes to its original length when the water is out. The expanding garden hose functions easily and is rather flexible.

◆ LIGHTWEIGHT & PORTABLE - The lightweight garden hose comes with a non-woven storage bag, space-saving, easy and convenient for carrying and storage. Just drain water from the hose when not in use, put in the bag and store out of direct sun. Besides, the water hose with an exquisite storage bag can serve as a perfect gift idea for your relatives and friends as gardeners.

◆ 100% SATISFACTION GUARANTEE - We will take responsibility for all our products and offer 100% worry-free satisfaction guarantee to let you buy with confidence. We are quite sure that you will be super-impressed with the DURABILITY, PORTABILITY and HIGH QUALITY of our expanding hose. Otherwise, contact us via your order e-mail,100% MONEY BACK.

Expandable garden hose is lightweight, compact, sturdy and durable for gardening, watering, pets bathing, car washing and home cleaning.
It's easy and convenient to curl up and store in the storage bag when not in use.
When in use it expands to 3 times its size and a full 150 feet, which can reach the far corners of most lawns and gardens, allowing many homes to own just this one hose that serves well for all their needs.
HIGHLIGHTS
1.BRASS FITTING:
Brass fitting has been considered the premium choice for durability and longevity of high pressure fittings.Our fittings are standard 100% Solid Brass.This solid brass fittings will not break,crack,leak or corrode for strongest durability,which can withstand high and low temperature(23℉/208℉).Superior to plastic fittings.
2.Lightweight & compact, easy to carry and store.
3.Expands instantly to 3 times in length.
4.Drains water in seconds by contracting automatically.
5.No bursts, leaks, cracks, kinks or tangles.
6.Longer service life.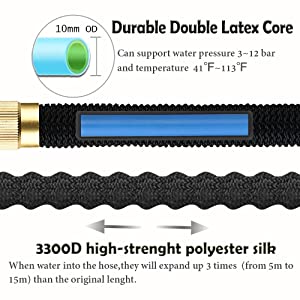 3X expand:
This magic hose expands up to 3x the original length and automatically retracts to original size when water is turned off as seen on TV.
Warm Tips: 1.The advertised length is the expanded length; 2.Do not run hot water through this hose;
3.Please close the tap and shut off valves after using;Store the hose nozzle in dry and cool area when not in use;
4.The length of hose varies with water pressure, expands up to 50 feet with about 0.6mpa of water pressure;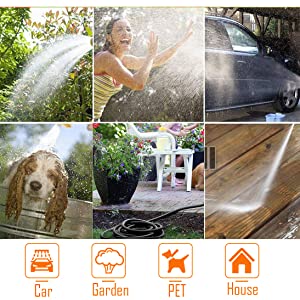 HIGHLIGHTS of 9 Adjustable Patterns Metal Hose Spray Gun:
- Made from a zinc alloy body, to prevent rust, corrosion, and wear;
- 9 Patterns Nozzle Sprayer,rotate 360 degree to select proper pattern.
- Soft rubber coating and suitable size for comfortable use and slip-resistant;
- Lock Trigger in Place for Extended Watering.
- This water gun is superior to other's plastic gun on the market;
9 Patterns Nozzle Sprayer,rotate 360 degree to select proper pattern:
SHOWER - CONE - JET - SOAKER - ANGLE - MIST - CNETER - FULL - FLAT
Supports all your needs including
gardening,
watering,
cleaning pets
and washing your car
or home cleaning.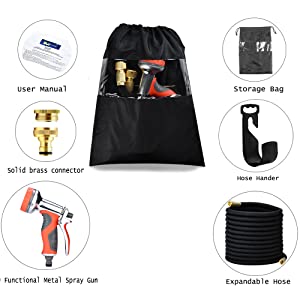 Package Includes:
1* Garden Hose (150FT/15M)
1* 9 Modes Functional Metal Spray gun ( Worth 10.99)
1* 1/2" and 3/4" Brass Fitting( Worth 5)
1* Hose Hanger ( Worth 5)
1* Hose Storage Bag ( Worth 2)
1* User Manual