Description
【8 Shiatsu Nodes for Full Body Massage】The ergonomic U-design and 8 deep-kneading nodes simulate human fingers to create a super comfortable deep tissue shiatsu massage. Let you experience professional simulate real-hand massage, relax the pressure, relieve aches, knots, and muscle tension. Neck massage roller pillow provide deep tissue massage for your neck, shoulders, upper back, lower back, waist, thighs, calves, legs, feet and arms.

【Soothing Hypertherapy Function】After turning on the hyperthermia function of the neck and shoulder back massager, it can heat up to 113°F/45°C in 10 minutes. With 15mins auto off prevents overheating. With soothing hypertherapy, neck and shoulder massager for neck back pain can be used to ease muscle tension, stress, promote blood circulation, improve sleep.

【3 Intensities and Bi-Directional Massage】Renpho shiatsu neck and back massager with heat has 3 speed strength levels. You can choose the pressure that suits you from 3 intensities massages to help your body relief stress and reduce muscle tension and discomfort. Bi-directional massage better relieves muscle soreness.

【Durable Motor and Breathable Fabric】The shiatsu kneading massager employs a high-quality and durable copper motor. Upgraded pillow fabric is breathable and skin-friendly. Waterproof PU leather is durable and easy to clean. 20.9 inchs long armrest strap is convenient for you to increase the massage pressure and adjust the massage angle.

【Makes a Great Gift】Use the back neck shoulder massager at home or in the office for relax 15-30 minutes daily, improve the wellness of your family. Perfect present for your cared ones. Ideal gift choice for people of all ages on birthday, mother's day, father's day, thanksgiving day, and Christmas.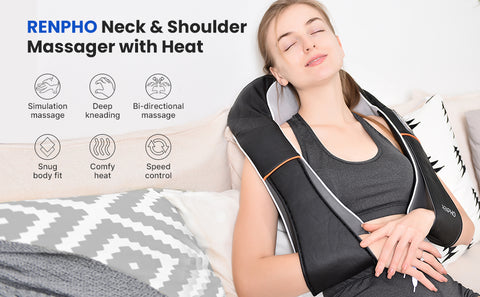 RENPHO Shiatsu Neck Massager with Heat
Neck and shoulder problems affect people of all ages. Improper sleeping positions or poor postures at work are some of the causes of soreness. But persistent soreness can be alleviated with stretching, exercise, or massage. This neck and shoulder massager can provide quick relief at home or in the office.
The RENPHO Shiatsu Neck and Back Massager has an ergonomic design making it fit perfectly to the neck, shoulders, back, waist, and legs. A high-quality motor and 8 deep kneading Shiatsu 3D nodes soothe and invigorate sore muscles. Suitable for most people to reduce aches, loosen stiff muscles, reduces stress, while saving you time and money.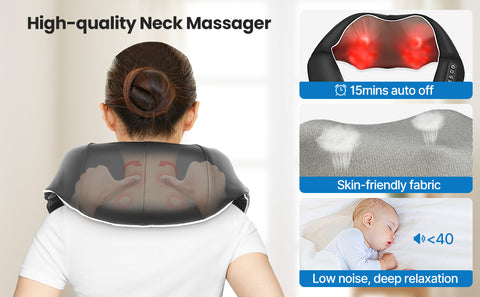 RENPHO Shiatsu Neck and Back Massager - Your Personal Masseuse
8 Deep-Kneading Shiatsu Massage Nodes
8 rotation massage nodes work wonders to relieve aches, knots and muscle tension, providing you a deep kneading shiatsu massage experience.
Simulated Hand Kneading Massage
3D rotating massage nodes is designed to simulate real human hands, providing you a deep kneading effect that massages muscles thoroughly.
Auto shut off for safety
As a safety feature, the massager will auto shut-off every 15 minutes of continuous use. Simply restart the massager if it's not too hot.
Durable Leatherette and Breathable Mesh
Durable Leatherette:Soft to the touch and easy to clean.
Breathable Mesh: Promotes heating and helps to cushion massage intensity while not inhibiting flexible movements of the massage nodes.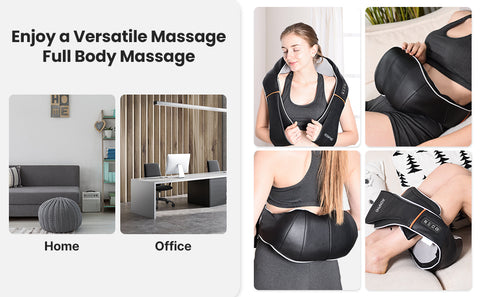 For Neck, Shoulders, Back, Legs, Feet, Muscles, and Full Body
Professional massage establishments can be expensive and time-consuming. Instead of making an appointment with a professional masseuse and spending a lot of time and money, the RENPHO massager can provide the equivalent relaxation at any given time for a fraction of the cost.
Neck Massage / Shoulder Massage / Back Massage / Abdomen Massage / Waist Massage / Legs Massage / Calves Massage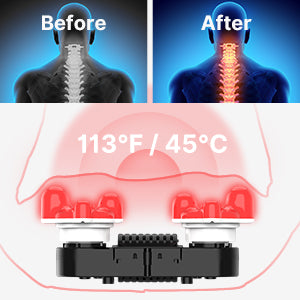 Soothing Heat Function
The heat function adds an extra touch of muscle-soothing intensity. Heat function can be turned on/off to your preference. (Up to 113°F/45°C)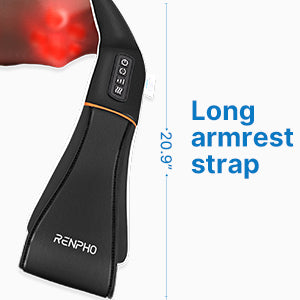 Longer Strap Handles & Adjustable Intensity
The strap handles allow you to apply pressure and adjust the massager to target the areas hard to reach.
There are 3 selectable speeds (low, medium, high) which allows you to find the right amount of pressure.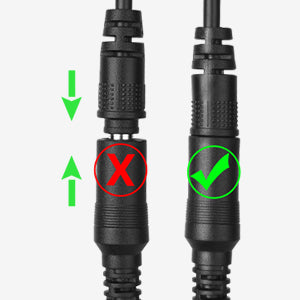 Key points to note
It's not cordless. You need to fasten the wire to the shoulder and neck interface

You can add a towel while massaging to further reduce the intensity of the deep kneading massage.

If you have neck or shoulder concerns, please consult your doctor before using this neck massager.