Description
✔️HOME & CAR USE - Including AC power adapter and car charger in the package, you can enjoy a massage after a busy day or a long driving trip. With a carrying bag, it is convenient to bring it out with you and enjoy massage anytime, anywhere.

✔️ DESIGNED FOR YOU - With ergonomic u-shape, the shiatsu massage will fit perfectly on your neck, shoulders, back, waist, abdomen, arms, legs, and feet. You can use the flexible handle straps to adjust position and intensity to the most comfortable. The neck and shoulder massager offers a deep kneading massage from your neck to feet.

✔️ HEAT FUNCTION & AUTO SHUT OFF - The optional heating function offers the warmth of about 40℃, which is similar to our body temperature. 15 minutes auto shut-off function and overheating protection system allow you to enjoy a comfortable massage without safety concerns.

✔️ ADJUSTABLE SHIATSU MASSAGE - The shiatsu neck massager features 8 powerful massage nodes, which will automatically change directions every minute. The massage rollers simulate the real hands to offer a deep tissue massage. There are 3 levels of speed for you to customize. Please start from the LOWEST speed if you are new to this kind of massager.

✔️ BUY WITH CONFIDENCE - Made of top quality PU leather and breathable mesh fabric, the neck massager is the best choice for your beloved family and friends. We provide a 30-day money-back guarantee, 24-month after-sale service for quality-related issues.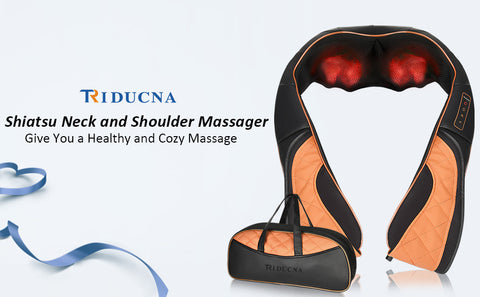 TRIDUCNA Shiatsu Neck and Shoulder Massager
Want to get a pleasure and comfort massage in your home or office? This shiatsu massager works well as a real human hand to relieve aches, knots and muscle tension, easily let your stress melt away.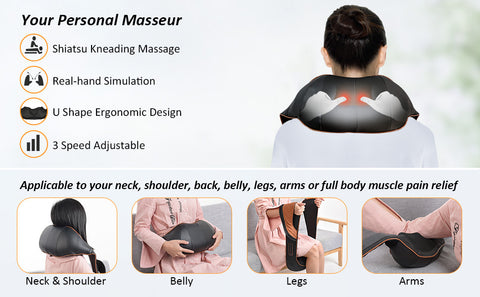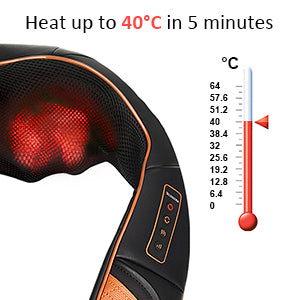 Soothing Heating Therapy
The optional heating function of this massager offers the warmth of about 40 ℃, which is similar to our body temperature. The soothing heat can be more effective release soreness and relax muscle tension.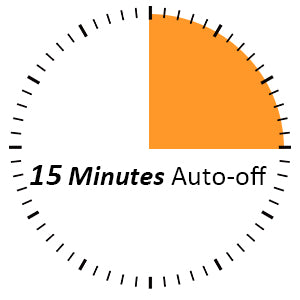 15 Minutes Auto-off Function
The shoulder massager has a 15 minutes auto-off function to give you a safe and health massage. It is not recommended to use the massager more than 2 sessions continually.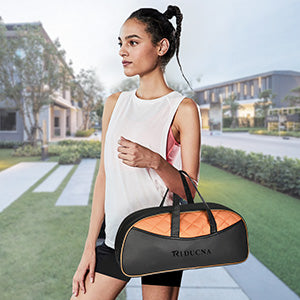 Portable Carrying Bag
The neck massager comes with a wonderful leather pouch for storage. It is convenient to bring it out with you and enjoy massage anytime, anywhere.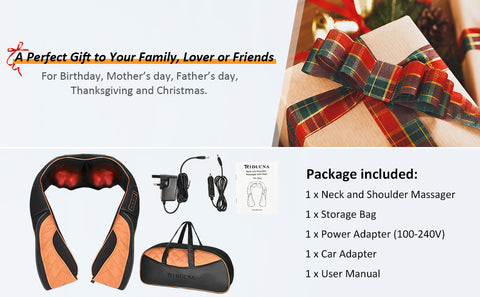 Note:
1. This neck and shoulder massager is not cordless. It must be plugged in for it to work. The length of cable is about 1.8 meters, please use it nearby the electric outlet.
2. The massager is designed to deep massage and maybe a little painful for those who are new to this kind of massager. It is recommended to place a soft cloth between the unit and your body for a better experience of the product.​
3. In case of the following conditions, please consult a doctor to see if you can use this type of massager before purchasing.
Humans with skin infectious diseases, skin redness, burns or scalds.

Humans who use cardiac pacemaker or similar implantable medical devices.

Humans with heart disease.

Humans who are receiving treatment or ill.

Humans with osteoporosis.

Humans with high blood pressure or abnormal blood pressure.

Pregnant woman, children.