Description
UGEE M708 graphic drawing tablet, features 10 x 6 inch large active drawing space with papery texture surface, provides enormous and smooth drawing for your digital artwork creation, offers natural no-lag sketch, painting experience; Play the OSU! Game or start your work, sketch, paint or edit photes, sign documents digitally, create mind-maps, draw diagrams or take notes. Nice choice for for Distance Education and Web Conference, online meeting or teaching.

Battery-Free presise pen stylus with 8192 pressure sensitivity allows you to draw accurate lines of any weight and opacity according to the pressure you apply to the pen, sharper line with light pressure and thick line with hard pressure, perfect for artistry design or unique brush effect for photo retouching;

Compatible with Windows 10 / 8 / 7 and Mac OS 10.8.0 or above,Macbook Chromebook; Driver program works with creative software such as Adobe Photoshop, Adobe Illustrator, Adobe, Macromedia Flash, Comic Studio, SAI, Infinite Stratos, 3D MAX, Autodesk MAYA, Pixologic ZBrush and more;

8 customizable express keys on the side for short cuts like eraser, zoom in and out, scrolling and undo, provide a lot more for convenience and helps to improve the productivity and efficiency when creating with the drawing tablet;

Easy to set up, user-friendly for right and left hand user with the pen holder and extra pen tips, ideal for professional artist, newbie designer and amateur hobbyist of all kind, provides 12-month hussle free warranty service and clock customer service;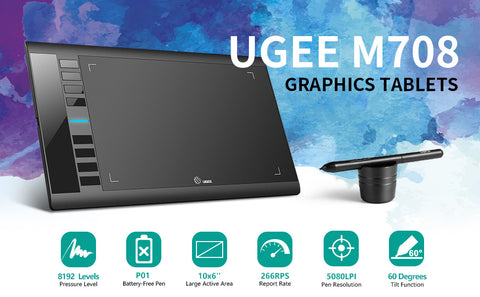 UGEE M708 Graphics Drawing Tablet
Large Active Area Drawing Tablet with 8 Hot Keys, 8192 Levels Pen, with papery texture surface, provides enormous and smooth drawing for your digital artwork creation, offers no-lag sketch painting experience for Paint Digital Art Creation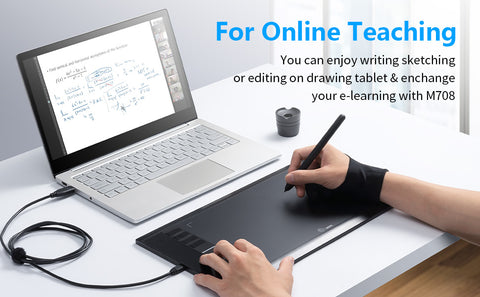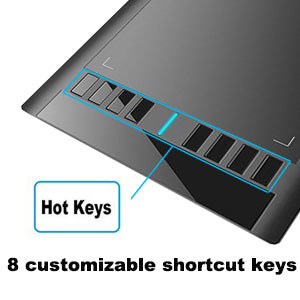 8 Customizable Shortcut Keys
8 customizable shortcut keys on the side can be used as like eraser, zoom in and out, scrolling and undo, provide a lot more for convenience and helps to improve the productivity when creating with the drawing tablet. You can also set the functions of these shortcuts according to your habits or preferences. Every detail is designed to make you more satisfied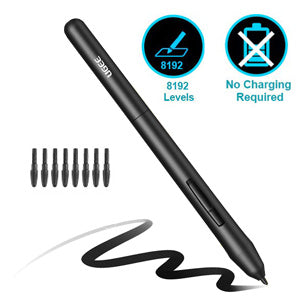 8192 Levels Pressure Sensitivity
The P01 battery-free stylus requires no charging and allows hours of uninterrupted drawing. With up to 8192 pressure sensitivity levels, it creates natural-looking lines with varying widths, giving you the familiar feeling of drawing on paper. It also supports up to 60 degrees of tilt action, making shading easy and effective.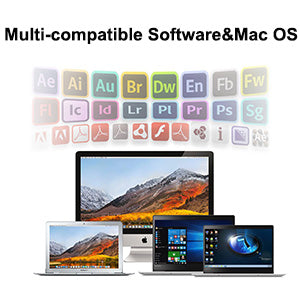 266 RPS Report Rate, Right and Left-handed Mode, Multi-compatible software& Windows& Mac OS
Multi-compatible software& Windows& Mac OS
Superior compatibility without CD driver. Perform well with Windows 10 / 8 / 7 and Mac OS X 10.10 or above; Driver program works with creative software such as Photoshop, Illustrator, Macromedia Flash, Comic Studio, SAI, Infinite Stratos, 3D MAX, Autodesk MAYA, Pixologic ZBrush and more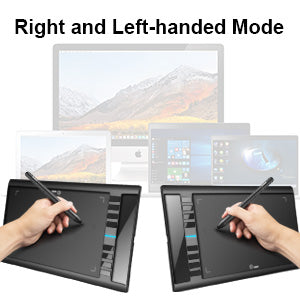 Right and Left-handed Mode
Suits for both right and left hand user. Even if you are used to the left hand, you don't have to worry about the inconvenience during use. Enter the setup options, switch left-hand mode, and you'll see that the screen is rotated 180°, then you can use your left hand for artistic creation.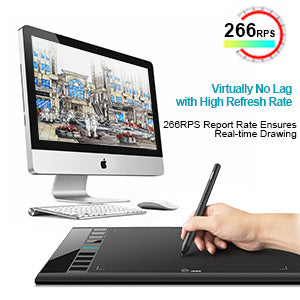 266 RPS Report Rate
266 RPS Report refresh rate allows for the smoothest real-time painting experience in art creation without any delay. Scientific design of high refresh rate is in line with the human eye's imaging capture principle, while painting does not make people feel visually tired.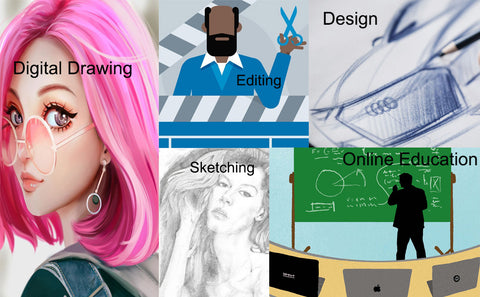 Ugee M708 Graphics Drawing Tablet Multi-scene Application
A perfect tablet for beginners
The simple design and stable performance of the UGEE M708 makes it the ideal tablet for you to start drawing or learning. This highly favored tablet has been enjoyed and recommended by an overwhelming majority of students and beginner artists.