Description
Earhook Design For Sports and IP7 Waterproof : This bluetooth headphones with mic to keep you motivated, adjustable and secure-fit silicone earhooks and ergonomic design ensure your earbuds stay comfortably firm in place when doing sports and outside activity, do not worry about the earphones will fall off. This waterproof headphones are constructed with Ip7 waterproof standard. Be worry free from sweat, heavy rain or spilled liquid and enjoy high quality music anywhere at anytime.

Bluetooth 5.1 and Wide Compatibility: Bluetooth Earphones adopt the advanced Bluetooth 5.1 technology to ensure more stable connection, lower latency and lower power consumption during data transmission. This earbuds wireless are compatible with smart phones that use iOS 9.0/Android 5.0 or above, and Bluetooth 4.0 or above all bluetooth devices. Therefore, no tangled wires are bothered, and you will enjoy the convenience brought by these headphones.

Hi-Fi Stereo Sound Quality : Face of one pair of Hi-Fi earphones wireless bluetooth, heard the backdrop of real, rich bass, tenor out so melodious, exquisitely carved treble then so ethereal and elegant. Noise cancelling earbuds have latest cvc 8.0 noise cancellation technology, provide a balanced and natural sound with superb dynamic range and accuracy, enjoy conversations and music with no audio dropouts and interruptions. So you can focus more on the music you love and concentrate on work.

One Step Pairing and Touch Control: Pick up 2 true wireless earbuds and they will connect each other automatically, then only one step easily enter moblie phone bluetooth setting to pair the earbuds. When you use wireless headphones bluetooth just take out the second one to achieve seamless transformation between single mode and dual mode. Multi-function touch panel on each earphone helps to play, pause, adjust volume, answer, end calls, activate siri and google assistant more convenient.

LCD Ditgtal Display and Fast Charging: In ear wireless headphones charging case with lcd power display shows remaining power in percentage. Charging case presents its battery from 1%-100% to let you know the current power status of your ear buds wireless earbuds and charging case anytime anywhere. Up to 5-6 hours playtime of normal usage on a single charge and boost that to 48 hours playtime with the 800mah compact charging case. With type-C quick charge, it only takes 1hr to charge the case.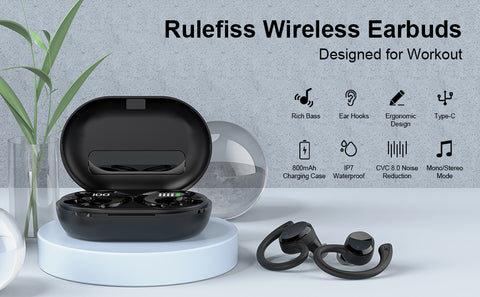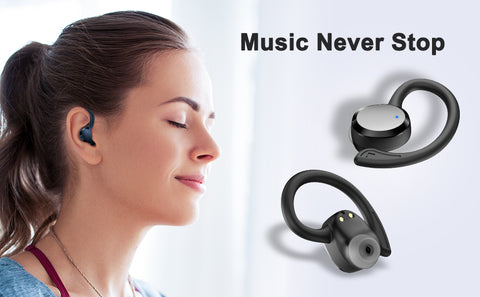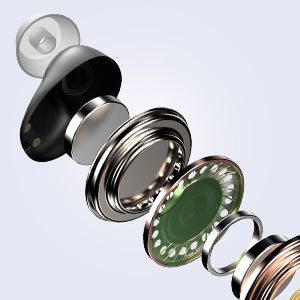 Superior Sound Quality
The unique stereo sound quality and design gives you the perfect sound, and you can feel the more realistic music. Crystal clarity and deep, resonant bass with delicately tuned sound signature delivers you the immersive sound sound and put you on the stage center.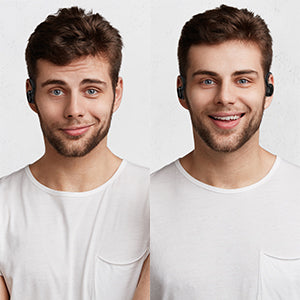 Single or Twin Mode
You can wear either one bluetooth sports earphone for mono mode when walking or driving on the road. You can also wear both earbuds simultaneously to create true wireless stereo immersive sound when you are alone or want to block out surround noise.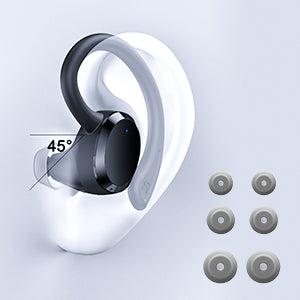 Comfortable Wearing
Equipped with 3 pairs of replacement earmuffs (L / M / S), the lightweight material offers secure comfort without pain, which you can choose the ones that fit your ears perfectly. And you can wear sports earbuds for a long time without feeling tiredness or pain.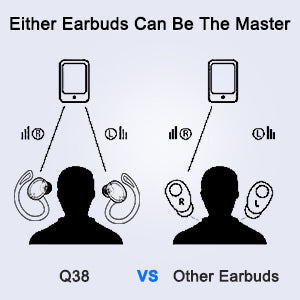 No Master Restriction
Q38 sports earphones bluetooth are totally free of wires. Both L/R earbuds can work separately as a single earbuds.You can use them separately to connect with devices for calls, enjoy music and other control functions .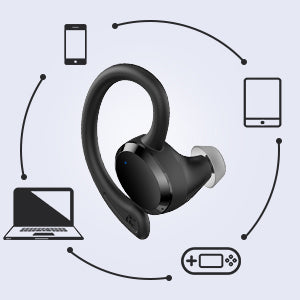 Wide Compatibility
The earbuds wireless can be connected to most bluetooth-enabled devices such as android or iOS smartphones, tablets, iOS or Windows PC, laptops, treadmill.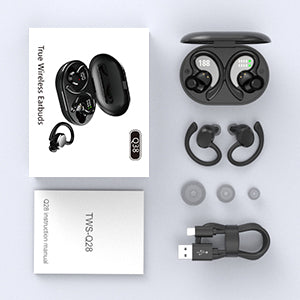 What's in the box?
1 * Wireless Sports Earbuds
3 * Silicone Earmuffs(S / M / L)
1 * Charging Box
1 * Charging Cable
1 * User Manual
How to reset the earbuds?
1. Empty the bluetooth list of mobile phone, and then turn off the bluetooth of mobile. If you have more than one mobile, when you want connect the earbuds to new device, also need do this step.Put earbuds into the charging case.
2. Take out one earbud from charging case. Long press 4s, you will hear a long beep sound, then "power off" voice prompt, so the previous pairing memory is cleared. Take out another earbud, repeat above steps to reset.
3. Put both earbuds into the charging case. After about 10 seconds,take out both earbuds at the same time. Look at the led indicator of both earbuds, wait for a while , if the led indicator of one flash white slowly, and another goes off, that means both earbuds pair with other successfully.
4.Turn on the bluetooth of mobile phone, search Q38 to connect.
Tips:
First, for the first pairing, please tear off the protective film of the headset charging interface, put it in the charging box, and then take out the headset to successfully pair.
Second, In order to prolong the life of the headset, please clean it with a wiping cloth after each use and then put it back in the charging case.
Friendly Reminder :
Please Charge the charging case at least one time every week. If the charging case over-release power, when we plug the charging cable, we find the led display won't show immediately. Please keep waiting 15 minutes , the led display will show later.
After using a period of time, the earbuds don't charge or even can't turn on because of oxidized magnet connector, you can handle this problem by using alcohol rag to clean the magnet connector on earbuds and charging case.