Description
★【Superior Home Theater Projector】2020 Upgraded mini projector equipped with 2000:1 contrast ratio, supported 1080p resolution, brings you a 35% brighter images than similar projectors in market. It provides you with a premium home cinema experience with the bigger screen and clearer image.

★【Low Noise & Long Lamp Life】The projector is lower in noise and more durable than previous models thanks to advanced fan cooling technology. Powerful cooling system cools the heat of lamp efficiently, extending the bulb life to 55,000 hours, which means you can use it more than 15 years.

★【Big Screen & Built-in Speakers】The compact projector has a 32~170 inches projection display size with 1m to 5m projection distance. Built-in speakers offer excellent loud sound quality, you can also connect it to external speakers to meet your higher quality sound needs.

★【Multiple Devices Connection & Portable】This portable projector is fit for playing videos, TV series, photos sharing, football matches etc. It can be easily connected with laptops, smartphones, tablets, USB drives, X-Box ONE to enjoy big games. When connect with phone, an extra HDMI adapter is needed. Please kindly note projectors with mirrored are incompatible with Netflix and Hulu due to copyright issues.

★【2 Year Satisfied Warranty】Our team offers every customer 100% satisfaction guarantee. If you have any problems while using, please feel free to contact us. Please rest assured that we also have 2 year warranty. Not recommended for PPT, or business presentation, it is a home projector. You can enjoy the fun at outdoor journey in dark.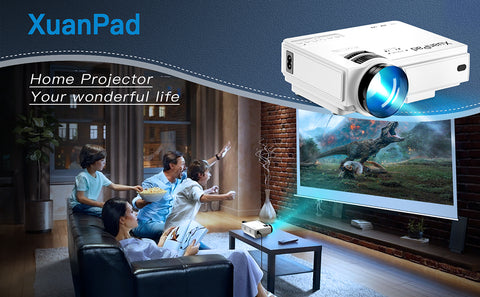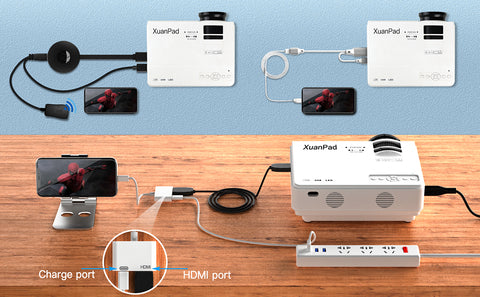 Mobile Phone Screen Synchronization
Lightning/ Android to HDMI Adapter NOT Included
If you want to connect with iPhone, you need an extra Lightning to HDMI adapter (not included). When connect with Android phone, you need an extra Micro USB/ Type C to HDMI adapter (not included). You can also connect our XuanPad projector through a WiFi Connection Adapter (not included).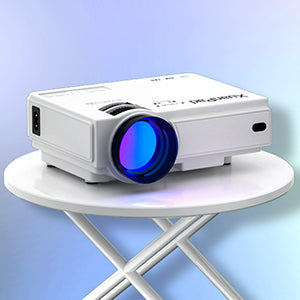 Enjoy Your Own Home Theater
Best Choice for Home Theater
XuanPad mini projector equipped with 2000:1 contrast ratio, 1080p resolution supported, 55,000 hours LED lamp life, all allow you to enjoy the happiness home entertainment. Definitely the best choice for you.
35% Brightness Improved
Thanks primarily to the 2021 upgraded tech, this mini projector delivers a +35% brightness better. The color and brightness are both upgraded which will allow you to enjoy a superior watching experience.
Easy to Carry
This pico projector has a mini size with a dimension of 7.7 x 6 x 2.7 in. The customized design allows you to carry and store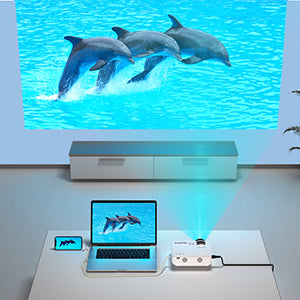 Compatible with 10+ Devices
The laptop projector enables to connect TV Stick / Laptop / DVD / PS3 / Xbox / TV box via HDMI input; Connect to PC via VGA jack; Connect TV/ video devices via AV input.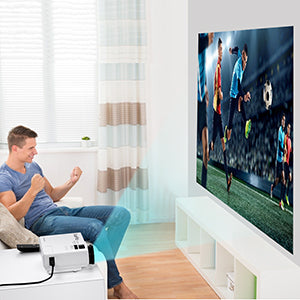 Enjoyable Time with Family
This tv projector is essential for daily entertainment. You can enjoy a wonderful football match show, brings you a warm and pleasant family time.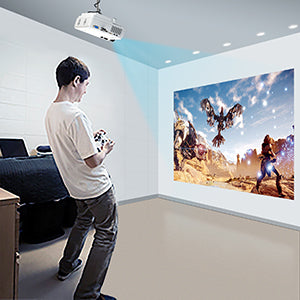 Big Screen Gaming Experience
This projector for phone can provide you with a big screen gaming experience, so that you can fully enjoy the game.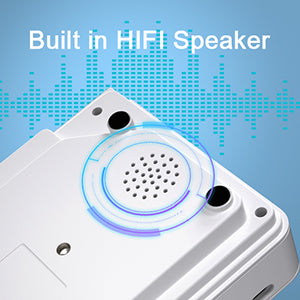 Superior Stereo Sound
This home cinema projector supports 1080p built in dual audio speakers, producing amazing sound quality for indoor and outdoor use, which bring you an immersive and awesome experience.
Easy to Focus
Use the keystone to adjust the lens to make a rectangular projection screen, then slowly rotate the body lens slider to get the clearest pictures, please make it focused before the projector is ceiling mounted.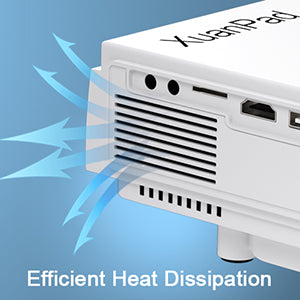 Efficient Heat Dissipation
XuanPad video projector adopts temperature control technology, and team of 2 independent intelligent speed control fans, which adjust the speed according to the temperature in real time, it minimize the power consumption and extend the lamp life up to at 55,000 hours.